Swans Commentary » swans.com
June 18, 2007
---
by Marie Rennard
Poetry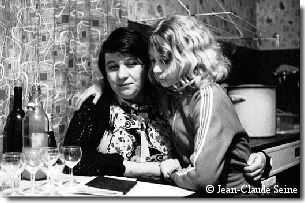 Intérieur ouvrière du textile Nord, 1974
© 1974 Jean-Claude Seine
(Swans - June 18, 2007)
There was in your arms so much love.
So many dreams drowned in your eyes.
Mum,
You were grabbing my heart
All along with the stone diving deep into yours.
How much I felt the weight.
Rich we felt—remember?
On Sunday afternoons.
Men, they were talking a silent chat.
We'd cleaned the whole dish and table
And at my copy book you used to have a look
Long writings you hardly could have spelled.
You'd close it in the end
And keep it here in proud
Confident it would help
To make my days stoneless.
· · · · · ·
If you find our work valuable, please consider helping us financially.
· · · · · ·