Swans Commentary » swans.com
September 7, 2009
---
All Our Rough Rides
Honesty in the auto-repair industry is as rare as the name Elmer
by Raju Peddada
When I Googled "great auto repair industry quotes" what came punning up dialectically were all the repair-and-parts "quotes" from the auto shops and insurance companies, rather than what I was expecting. Which is a great oxymoronic commentary on the industry's ubiquitous incongruence: you will get the opposite of what you expect. However, here is another great "quote."

Auto Repair Price List:

Ping, Click, Ping: $15.00
Click, Whine, Click: $21.00
Thud, Clunk, Whine: $41.00
Clang, Thud, Ping: $75.00
Bang, Screech, die: $500.00
All of the above: $2000.00
(Swans - September 7, 2009) Cars represent our terrestrial freedom, arresting our life in a metaphoric sphere -- it is the reason why unflinching amounts are paid for cars that are certifiable repositories of great personal memories. The proliferation of auto auctions like the Mecum, Christie's Sotheby's, and the Pebble Beach shows attest to this reality. Cars also cuddle the melancholic reminiscences of our lost vitality; all those drive-in shows, the back seat shenanigans, stops on life's journeys, and life-changing pick-ups. Cars of our childhood have morphed from objects to symbols of a dissolved life and youthful indiscretions. They have become emblematic of our journey of life. There was a great article in The Wall Street Journal on January 11th, 2008, titled "The Car That Got Away," about how men in their middle age are paying vulgar sums hunting passionately for reacquisition of their boyhood cars. A New York Times article last year also capped the identical issue in "Out of Africa, to Brooklyn," about a Brooklyn jewelry designer who went looking for the very SUV, a 1964 Land Rover Series IIa, that his dad, a medical researcher, drove around with the family in Uganda when he was a toddler.
I have had my own poignant yearnings. I would give anything to reacquire that metallic bottle green, butterfly wing-doors, 1953 Fiat 1100 that my father purchased in 1965 while in Patna, the capital of Bihar in India. To put it in perspective, consider this: In 1965, 18 years after independence India was still a heavily forested, backwatered agrarian country dotted with villages that had never seen motorized transport, and with no major roads or highways. Rivers had to be crossed on flat, wobbling, nerve-racking boats. Within three months of purchase of this Fiat, on December 11, 1965, my father, a primed, irascible, and audacious man, along with a cerebral, timid, and beautiful wife, two boys ages 9 and 7, and his mother and brother set out on a three-thousand-miles-plus trip from Bihar in the northeast to the deep south of India and back. Many of his colleagues, who were engineers like him, had bet against him ever resurfacing back at the office -- they considered it as utter lunacy, inane bravado on my father's part taking his family along. Spliced to a short story here, the trip was a transcendental adventure that took us through the pages and layers of history, culture, and scenic innocence that still chokes me with longing, and resonates vigorously in my psyche, even after 44 years. We saw the country at eye level, and it filled us with experiences and images that haven't faded with time. It was a gift from my father of tremendous spiritual proportion that can never be topped with anything tangible, and I am forever indebted to him for his audaciousness and his magnanimity. Our car is indeed an emotional cache, whether it is a commodity or an art.
Mr. Herb Chambers, a successful young office-copiers supply salesman had an accident with his car in the early 1970s, which he had purchased for about $22,000 dollars, a large sum back then. The car was reportedly a total loss and was impounded by the insurance company. Thirty-plus years removed, Mr. Chambers, now a tremendously successful businessman in Boston who owns over 20 car dealerships, got a call one day from his friend and TV host Mr. Wayne Carini of "Chasing Classic Cars" on the Discovery Channel, who had built a sedulous career around uniting rich men and with the cars of their youth. It was about a 1972 Ferrari Daytona-Spider that he had tracked down in Denver with numbers that matched with his friend Mr. Chambers's car from the '70s. Well, the short end of it is that Mr. Chambers, along with Mr. Carini, flew on his private jet to Denver and brought the car back from a dealer for $954,000. He said "too many great memories in this car"; indeed, the memories are priceless, and only some can afford it. It is a strange dichotomy -- the commodity car industry is on flat tires, while the exotic car market is red hot, burning the wheels. There is huge difference between what is considered art and what is commodity, and it is the commodity car that is associated with all the unfortunate sleaze.
Here is where the sleaze factor is born: There are over 175,000 auto-repair shops with almost 670,000 employees in the U.S. with over $65 billion in revenues. The average repair shop has 4.6 bays and 4.3 full time employees, pulling in an annual average of $322,114 in revenue, and it is lower per shop in a chain business like Monro, which has 515 locations. Sixty percent of the revenue comes from repairs and 40% from body shop work, and 67% of the shops are family owned. A recent survey by AutoInc. Magazine on repair shop owners revealed that 46.5% respondents worried about finding good technicians. A serious want of customer trust is the core problem with this industry, echoed by Bridget Ryan Snell of Motor Age Magazine who said "telling the customer you are honest doesn't keep them coming back; you've got to earn this trust over time by the cumulative positive experiences."
Mom-and-pop shops have the most repeat customers, but the chain auto shops are in serious deficit, as underpaid employees have no stake in the operations other than making a profit for the owners. More people are keeping their cars longer and need trustworthy shops to do needed work. The Motor & Equipment Manufacturers Association claims that 18.5% of vehicles on the road are expected to be 15 years of age or older, creating a bonanza for the repair industry, but how many customers will walk out happy? Mechanics are getting certification in droves from the National Institute for Automotive Service Excellence (ASE) to avoid this scenario. Some will learn and some never will.
Professor Henry S. Schneider of Cornell University published a white paper on "Agency problems & reputation in expert services: Evidence from Auto Repairs" -- a must read for those interested in customer retention and service in detail. Even commodity cars are emotional caches for us, however when we deal with daily car problems, in strained finances, the sentimental and emotional attachments atrophy and our ownership of the car becomes tenuous, and to mitigate this stress we get rid of it, albeit with remorse. Most see it as just a tool to take you from point A to point B, but some associate it with identity and other intangible aspects of ownership.
You told me last week...after inspecting my car that I only needed brake pads, and that would be $90 with labor...now it's $390?

Ma'am, it's your car, I don't drive it, that was last week and just the pads, you've to get rotors and the oil line too...we're busy with other cars right now...can't do it for less than that.
Predictable conversation anywhere at an auto repair shop... Brazen mechanics have cultivated a notorious reputation with customers, especially with women, for consistently victimizing and ripping them off. Women approaching an auto repair shop are considered by the mechanics as walking dollars. I too have been frustrated many times with these smooth-talking service center managers who talk down to the customer in exasperation, as if they are doing us a favor. When I moved to the city of Des Plaines in 1991, I became desperate for a good reliable auto mechanic. My hunt took me to another service chain famous for its pioneering name. In 1991 I discovered that the oil in my car always looked like sludge, despite my diligent oil changes. I had an idea: I marked my new oil filter with a Sharpie and had it go through three oil changes before they changed it, while all along billing me for an oil filter every time. I pointed this out to the manager, who tried to weasel out of responsibility by giving me drivel about the filter being forgotten by the mechanic, and the mechanic telling me that the filter looked clean and they simply did not change it (and I suspect the oil neither). My question to them was why were they billing every time for a filter? They were caught. They tried to lure me back with free oil changes and apologies, but I was history.
I was always under the impression that the big auto repair chains were reliable with their fancy names, terminology and guarantees, and the mom-and-pop shops were the troublemakers, but I discovered that the opposite was true. The big chains offered euphemisms, not quotes. Some of their pleonastic appellations include "technicians" for "mechanics" -- if I remember correctly, Mr. Henry Ford called himself a mechanic. These "technicians" are basically underpaid Mexicans who slave away under various chassis daily, making sure the job is done in such a way that the customer comes back for another repair. They never mention individual parts, but have various systems for you: the electrical system, the exhaust system, this system and that system - all actually setting you up for multiple parts and involved labor when they have your car jacked up. I have had terrible experiences with Canadian Tire and with chains specializing in mufflers and brakes. I am filled with unutterable and vituperative loathing at being reduced to a helpless consumer by these "erudite and veracious technicians."
Blogger Paul Gowder's consumer rage is understandable. He says:
There has got to be some way to control the auto repair principal or agent problem generated by the fact that mechanics have specialized information and no incentive whatsoever to be honest with it. [...] This is not efficient, to give consumers the choice between wasteful maintenance and wasteful damage from the lack of maintenance. But I have to wonder -- do these guys have a massive lobbying team to protect them from the natural collective response to the problem, viz., massive regulation? [...] I am still angry that I was forced, in 2004, to drop hundred dollars on things like repairs to the motor in my automatic window so that I could pass the cockamamie "safety inspection" the state of Virginia demanded before I could register my car. That is almost conclusive evidence of pure rent-seeking from this auto-repair lobby (noting in passing that the much more liberal California has no such crooked patenalism).
There is nothing more dreadful than the specter of your car stalling, and the prospect of getting it towed to an auto repair shop. The majority of women are naive about cars, and take no interest in them other than driving them. Sounds like a man's fate? Not all men are handy; most men, like me are, like the other gender, quite ignorant about even the basics on the cars. Quite frankly, I haven't met a mechanic who hasn't rubbed me the wrong way; come to think of it, I hadn't met any mechanic who ever told me "you don't need it." That is, till I met Rich Panzer.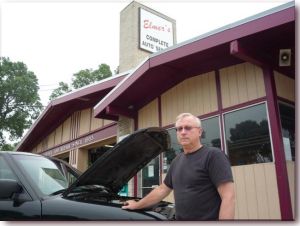 Elmer's Complete Auto Shop
Rich Panzer; couldn't have a better Germanic name for being the boss of an auto repair shop. In fact, Panzer is the name of the famous WWII tank from Germany that shredded allied equipment and our Sherman tanks on the battlefronts, even though it represented the bad guys. Upon a recommendation from someone I knew, I drove over to Elmer's in the summer of 1991, at the southeast corner of Oakton and Wolf in Des Plaines, and there I ran into a man who did my oil change, and told me I did not need the air filter changed. This was a complete shock to me. And, on hearing this from Rich, the siren went off. All mechanics are the same, they want to make a quick buck, and treat you as a one time customer, and when you meet someone reasonable and genuine, it is shocking, a true jolt indeed. We are so jaded and conditioned in our society to expect bullshit from car mechanics, insurance agents, and doctors, that when we see an authentic one, we cannot accept it. It feels like an anomaly, a hallucination, and a mirage.
Elmer's started operating in 1955, when cars had tail fins and they floated on the roads propelled by the cast iron engines, chugging gasoline through mechanical carburetors. Ron and Rich joined their stepfather Elmer's fledgling enterprise after 1956 and since then have opened the same door to their shop for two generations. Their business had cruised into the 21st century essentially looking the same. Rich today is semi-retired from operations, handing over the reigns to another man with similar propensities, Thomas Stanisz and his humorous crew, Eddie and "fast" Pete. Rich and Tom running the Elmer's show have related many stories over the years that capture the innocence of a bygone era and the present peculiarities of their trade. While humans have primarily not changed, automobiles have turned over fundamentally, and now repairs have been replaced by replacement parts, as cars come with microprocessors that control all mechanical functions. You could get by with basic tools or rig your own, as they did back in the 1950s through the '70s. Today they have targeted problem-specific tools without which repairs or replacements cannot be accomplished. The game had changed, but the attitude remains the same and it is "Screw you" except at Elmer's.
Once in 1963, Rich had fielded a call for a car tow request by the O'Hare airport. Upon turning right off of Higgins Road onto an innocuous lane leading to O'Hare, Rich was jolted to see plane lights coming straight at him. He realized that he was on a runway, and could not decipher how and why he ended up on the runway, as he rapidly veered off to safety with a pounding heart. Besides his abnormal customer experiences over the decades, Rich and Tom counsel that if you are an average car owner, and do not want the "twilight zone" experience, keep in mind three simple things: 1) In most cases vehicle breakdown can be traced to a single component failure; the chances of multiple parts failing at the same time are rare to non-existent. 2) If an auto repair shop gives you a list of parts they want to replace to solve a single problem, it should raise a red flag. 3) When the manufacturer is paying for the repairs under warranty, the standard rule is one part per complaint; this should give you clues as to how we work. Check out auto-facts.org and carcare.org
What do you mean the engine is going to die...it's got only 56,000 miles?

Well, there's no compression, the pistons and rings are all shot and the oil pan leaks.

...But it picks up speed very well...just drove back from Denver.

Sir, that's all I can tell you, fixing it is better than monthly payments on a car, isn't it?

How much will it cost?

Head gaskets, rings, pistons and the oil pan...plus labor, you're lookin' at around $1200 bucks.

Oh my god...but the car runs fine!

Then keep driving it.
In an intensive customer service and interaction environment, you would think that these auto shop dolts would dispense probity rather than deception. A conundrum I cannot unbolt is this certain myopic shortsightedness afflicting the nincompoops in management at these ill-reputed chains that cannot cultivate relations or service customers. Is it monopolistic behavior? They, in their corroded vision and decompressed business savvy, treat customers like old oil filters or adversaries. Many customers still continue to blow their gaskets after visiting these auto "impair" facilities; and sooner than later, with more older cars on the roads, this racket will attract some kind of an oversight from the authorities (since oversight has become the "forte" of the present administration) if this trend persists. However, I would like nothing more than female vigilantes to retool this junky industry. One sure way to prevent oversight or vigilantes is to have more of these Elmer's out there.
· · · · · ·

If you find our work useful and appreciate its quality, please consider
making a donation. Money is spent to pay for Internet costs, maintenance
and upgrade of our computer network, and development of the site.

· · · · · ·