Swans Commentary » swans.com
September 7, 2009
---
by Guido Monte
Multilingual Poetry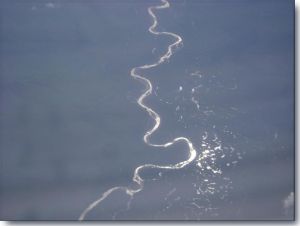 river
© 2009 Laura Collura
(Swans - September 7, 2009)
1.
in principio
adi, brahmanda --
in principio separated Elohim
coelum et terram
at the beginning
the origin, the world seed
-- earth, heaven, water -- bloomed
from a universe
an interior, hidden mind, dopo una serie di oscuri universi
the last division of oceans and islands, of heaven and earth: beth


2. itihasa:
war'a hawat toh waboh and the land was left barren
...a deep sleep -- a land suffering from labour pains
a land oblivious of the Other

a deep sleep with no dreams,
ombre nere tamas black shades sushupti
et les ombres noires
enveloppaient les profondeurs
the Weltengeist enim scrutatur
etiam profunda in tenebris darkness
où nous sommes des otages of vain things


3. breath
il soffio: cosmic energy on the primordial waters
but we don't remember it at all

air breath
with tacit sighs for all of us.
aura intra aeterna caela blow inside unending air

OM
Picture: river, by Laura Collura (2009).
· · · · · ·
Please help our work by making a financial contribution to Swans.
· · · · · ·