Swans Commentary » swans.com
December 31, 2007 - January 1, 2008
---
Journey To The Sleep Doors: Sybilla
by Guido Monte & Francesca Saieva
Multilingual Poetry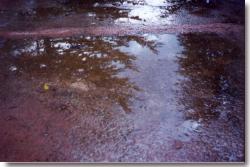 Untitled
© 2004 Guido Monte
(Swans - December 31, 2007 - January 1, 2008)
così al vento ne le foglie levi
so on the wind leaves
si perdea la sentenza di Sibilla
the Sybil's sentence vanished—
a help from old obstacles:
woman, death senhal
"apothanein thélo" I want to die
woman, life senhal: excessus mentis
"and yes I said yes I will Yes"
she sails on primeval waters
to the well shaped black pyramids
of Giants' Causeway
Deciphered enigma of a transfigured reality, responses on leaves from a too-old autumn. "Roots that every wind tore away" (E. Montale). Voice of woman, cosmogonic howl, archetypal sign (E. Zola). Hiss unlocks eternal obscurity in the people's noises (J. Conrad). Pry Sibyl: "Is it simple the way to Hades?" (Aeschylus).
Eternal-finite, immortal-death, you take care of your individuality's conscience. What about the fates, this time? And what is your question? "Nothing good or perfect from the sea, all is split, dust, mud, bog" (Plato).
Is it only a lie what I wrote, thought, heard?
(N. Hikmet)
The authors thank Virginia Ann Huth.
· · · · · ·
Please help our work by making a financial contribution to Swans.
· · · · · ·