Swans Commentary » swans.com
December 15, 2008
---
by Art Shay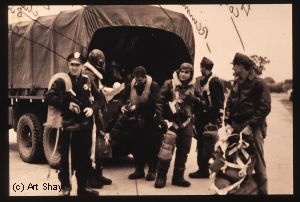 Art Shay's favorite GM truck. He is third from right. Tibenham Base, England, about to bomb Berlin, June 13, 1944 © Art Shay
(Swans - December 15, 2008) There should be a word in our glorious language for the knell that sounds just before the death knell. Like penultiknell. My mental ear futilely reached for such a word last night as I read Fortune Magazine's loving obit: "GM - Death of an American Dream." The writer, Alex Taylor III, a long time GM fan and documenter for Fortune wrote his tear-stained piece with the kind of sadness that suffuses the very best obsequies -- love of the departing. "If Washington wants to bail out GM," Taylor sighs, "it's fine with me. But you have to wonder whether the insular, self-absorbed culture that still dominates GM is up to the job of restructuring the company quickly enough to make it competitive and profitable again."
When you think of how many $50,000-a-page ads GM has placed in Fortune, Time, Life, and Sports Illustrated over the years (including many around pictures of mine), and how many future ads the article will obviate, you can understand the bravery of storm-tossed Time Inc. in allowing Fortune to pre-knell the auto giant -- in an article that also points out Toyota is now about 150 times as rich as GM. There was talk, just a very few years ago, of GM buying Toyota and making it a division of their own stumbling colossus.
As a Midwest magazine photographer I operated out of Chicago, and my territory included Detroit and much of the entire continent. But I had a special devotion to Detroit because in 1952-53, a year or so after I had left a cushy Time-Life writing career to pursue photojournalism with my little Rollei and Leica, I was hired by Ford to work on their 50th Anniversary book. My former boss at Life, Joe Thorndike, who was descended from one of the last wizards to be burned at the stake in Massachusetts, was to be editor-publisher and he wanted me to "script" the entire Ford Empire and photograph some of it.
My first five-figure job as a free lance! "Scripting" is what reporters did on Life. It's really what burglars do when they case the joint. I looked into every crevice of Ford at the Rouge and all over America and "scripted" what I thought our writers should write about and our photographers shoot.
| | | | | |
| --- | --- | --- | --- | --- |
| | Book cover of Ford at Fifty, a 1953 self-celebration on which the author worked for using his photograhic talents and faithful cameras. (Benson Ford at left, William Clay Ford in center, and Henry Ford II at right.) Courtesy of Art Shay | | | Top Ford designer Gene Bordinat, Jr. hides the clay model of yet another gas guzzler of the Seventies. © Art Shay |
Ernie Breech, the head of Ford, was livid in 1955 because GM had beaten him to the market with the sporty, overpowered Corvette, which was selling briskly. His own baby, the Thunderbird, was a year or so behind and Ford wanted to show it off on the highest possible level. Thus they opened the door to their holiest of holies -- their tiny design courtyard -- to Fortune Magazine. So Fortune sent me to shoot Breech and the T-Bird for publication in the following month's issue. Fortune had agreed that Ford could keep one side of the newly designed front covered with a tarp.
The outdoor viewing area was protected on one side by the Design Center's wall and on the other three sides by a fifteen-foot-high schoolyard fence laced with dark green ribbon. They didn't want any of the ingenious car magazines to get an advanced peek. When I got to the set there was this gorgeous red T-Bird with Breech and a few execs ready to pose. I had walked through the design studio (and its dozen security checkers) and had noticed an equally gorgeous white GM Corvette on the floor. "How about pulling the Corvette out so I can shoot the cars together?" I asked the PR chief. Breech liked the idea and when the Vette was pushed alongside his baby he bent down, scooped up some mud, and dirtied the front with a mischievous kid's grin then stood proudly next to the red T-Bird. I shot a few Ektachrome frames with my Rolleiflex. When Breech asked me if I was getting what I wanted, I said, "Not quite. The fucking tarp spoils the beautiful design." Breech swung his small body across the hood and pulled off the tarp. "Let's show the other tit," he said enthusiastically. Several PR men gasped.
| | | | | |
| --- | --- | --- | --- | --- |
| | A proud and smiling Ernie Breech, president of Ford, in front of the very first T-Bird in 1956 with the Vette in the background. © Art Shay | | | Robert McNamara in 1956, about to become CEO of Ford later on in 1960, outside Ford Building. VP Lewis Crusoe is at left. McNamara is better remembered for his nefarious role during the Vietnam War. © Art Shay |
I asked for a ladder and while shooting down from a high angle I noticed that a couple of hundred yards in the distance was a row of small red houses. I saw a lens reflection coming from a window! I whipped out my 300 mm Kilfitt lens on my Nikon and saw a guy in a window aiming his telephoto at me!
At my exclamation, Breech brushed me aside and went up the ladder with my Nikon. "Holy shit!" he exclaimed. "It's GM or Chrysler spying on us -- or one of the car magazines!" He yelled at his security chief. "I want another ten feet of fence on all three sides, immediately!"
He thanked me, had the cars wheeled back into Design, and I got a bonus for my second or third full-color-page in Fortune.
My favorite haunt was the test track at Dearborn. There, all of the world's and Ford's great cars and lemons were put through their paces by experts, all data gathered (in those pre-computer days) by sharp-eyed engineers at the top of their automotive profession.
One day at the test track lunchroom I found myself surrounded by Ford's top design, transmission, and running-gear experts -- I had even met one of them when I was a B-24 combat flier in WWII. The transfer for him from Liberators to Fords was easy. His father and grandfather had worked for Ford too. His old man had helped build my Liberator at Willow Run.
By chance one of my nephews had visited from the east driving a VW. I now repeated some of my nephew's praises for the tough little German monster, which was destined to become the best selling car in the world. Cost: $1,499, 26 miles per gallon, immense popularity with the college crowd.
"Hey you guys," I asked the experts. "When is Ford gonna build a four cylinder car?"
This was greeted by loud, sustained laughter from everyone.
"It's come up at meetings," said my friend, "but..." He began ticking off his fingers: "No storage room. Can't get on the expressway safely with four cylinders, no one cares about gas mileage, you couldn't run an air conditioner on four cylinders...and there ain't much profit in a $1,500 car." All valid criticisms, but as well, all valid reasons that as I write the men running the Big Three are in Washington begging for some of your tax money.
Guys who ill-advisedly showed up at the first begging session transported by private jets. One of the officials was reluctant to mention his $20 million bonus last year, when his company lost billions, and in effect didn't make as much profit as your local pizza delivery person.
It's hard to believe that all these heavy losers think that a few billion bucks from us Lexus, Honda, and Toyota fanciers will save them from the Japanese and Koreans, each of whom makes better, sturdier, and cheaper cars. Cars that have a 50% superior trade-in value. Planned obsolescence finally comes a cropper. Detroit used to boast of getting you as a re-up every two years -- after you've scored 24,000 miles before troubles set in.
Let me sigh here and remember my favorite bitter-sweet adventure with GM, one that happened long after I drove to a semi-finals victory in the Chevrolet Soap Box Derby in Central Park, NYC, as recently as 1935.
| | | |
| --- | --- | --- |
| | | Soap Box Derby safety helmet, Art Shay, 13, poses with his kid brother assistant, Leonard, before finishing second in the semi-finals in Central Park. Another racer crashed into his, and the NY Post quoted Art : "I woulda won," he cried, "if that --- ---- knew where he was going." The picture was made with Shay's first camera, a nineteen cent 127 mini that came if you sent in the coupon on a cereal box. © Art Shay |
In 1979, I bought a car from the then-president of GM, Pete Estes. He was a great salesman and I was an easy sell because I'm a car nut. I was taking Pete's picture for Scouting Magazine -- he was big in scouting. Then he asked me what kind of car I had driven from Chicago to Flint. A little ashamed, I told him it was a 504 Peugeot diesel. He smiled a bitter 1979 smile and pulled out a picture of an Oldsmobile Cutlass. "This is our new diesel," he said. "Thirty-three miles a gallon -- we made it out of one of our eight cylinder motors -- it'll last forever -- and if you buy it now -- we got a dozen on the test track -- I'll have one washed up for you. How about blue? You can drive it home. We'll have someone drive your car back to Chicago. I'll give it to you for half price and you report to me how you like it once a month. Make that a third of the price and every two months. A research project." My Cutlass was big, blue, had twin batteries, leather seats, and the motor had a pleasant mechanical heartbeat that ticked away like a loud Swiss clock.
| | | |
| --- | --- | --- |
| | | |
| A puff-puffing 1970s 504 oil-leaking Peugeot. They are still on the road. Still leaking. The newer ones do not though. Peugeot and Citroën put their act together in a hurry. | | A 1979 Oldsmobile Cutlass. No oil leak, for sure. But nothing else worked, and to this day nothing works still. Here comes Congress, whose members understand diesel as the old guys did. Good luck! |
With me on the hook, Pete, a wiry man who looked like a snake-oil salesman out of his century, began quoting Chekhov. "As someone approximately observed to Constantine in The Seagull...What's important isn't fame and glory, the things most people dream about, but knowing how to endure. How to bear your cross and have faith. I have faith in this car. It's gonna endure and change GM so guys like you won't be tempted by a sexy French pussy that drips oil all over our test track."
Pete was right about the oil. My racquetball friend Dan Rotter had a Peugeot like mine -- bought in the first days of the gas scare -- and his driveway, too, was splotched with oil. The French hadn't yet solved their gasket problems.
My poor Olds did get 33 miles a gallon on 47 cents a gallon. It didn't drip oil, but it was temperamental about starting. My then handball partner, Bob Trock, heir to the Bell Oil Company fortune, let me fill up at his headquarters' pump, but after three months, begged me not to come into the office. "Just fill it up and drive off," he said. "I lose more money book-keeping your lousy six bucks than I make on the oil." This stopped shortly because Chicago police and firemen began dropping in at Bell for free fill-ups.
I kept reporting my troubles to Estes. The motor's jet feedlines had to be blown out every three weeks. "We're working on the starting problem," I was assured. A local Olds dealer was alerted to lend this nephew of Pete Estes another Olds whenever mine was being serviced for malfunctions.
I gave up on the Olds diesel after about six months. The last straw was when my local Olds dealer, despite my connections with the Chairman of the Board, told me his diesel mechanic was on two weeks' leave, and would get my car started the minute he returned. I limped into Evanston with it and traded it on a Subaru. No trouble with the Subaru. I did 150,000 miles on it and sold it for a pittance to our cleaning lady, who would put another 30,000 miles on it before moving up to a bigger Toyota.
Yes, Pete Estes was right about the Peugeot leaking oil in my driveway, but he was also right, sort of, about the sturdiness of the GM Olds diesel motor's durability. In this week's welter of GM articles, an auto writer notes with a parenthesis (his is no typographic error) that the 1979 Diesel Oldsmobile Cutlass belonging to a friend of his still has the original motor and that it has gone 2,100,000 miles.
So starting on that long-ago day in 1979 when the president of GM honestly believed he was doing me a great favor, had he devoted some of his executive savvy and engineering brigades to getting the bugs out of my Olds diesel, his successor would not be sitting squirming before Congress tin cup (made in China no doubt) in hand.
The auto industry, like President Bush, had it all, and blew it all.
· · · · · ·
If you find our work valuable, please consider helping us financially.
· · · · · ·