Independence Day Sale
by Jan Baughman
July 5, 2004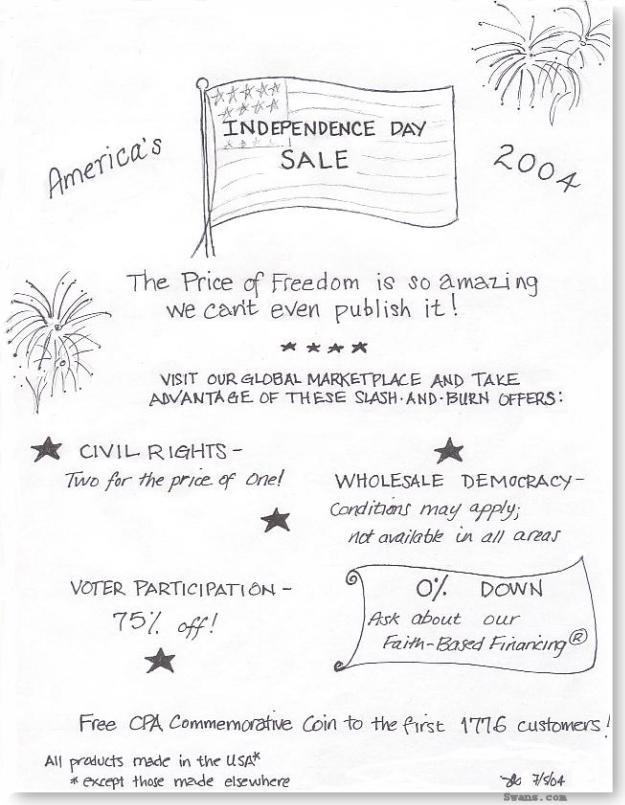 · · · · · ·



Resources

Other Cartoons by Jan Baughman

Campaign Financing (December 2003)
Operation Iraqi Freedom (March 2003)
It's the Issues, Stupid (February 2000)

America the 'beautiful' on Swans



Jan Baughman on Swans (with bio).

Do you wish to share your opinion? We invite your comments. E-mail the Editor. Please include your full name, address and phone number. If we publish your opinion we will only include your name, city, state, and country.

Please, feel free to insert a link to this cartoon on your Web site or to disseminate its URL on your favorite lists. However, please DO NOT steal, scavenge or repost this work without the expressed written authorization of Swans. This material is copyrighted, © Jan Baughman 2004. All rights reserved.
· · · · · ·
This Week's Internal Links
The Genius Of Marlon Brando - by John Steppling
Election 2004: A Plebiscite In Bedlam - by Phil Rockstroh
Kerry And Electoral Illusions - by John Steppling
Regime Change Starts With Bush - by Joel Wendland
ABB a.k.a. America's Bizarre Bunko - by Philip Greenspan
The Fine Art And Accomplished Magic Of Liking Everything - by Bill Eger
Leo Strauss - by Milo Clark
Rubicon 9/11 - by Richard Macintosh
Swiftian Overload - by Manuel García, Jr.
Ipse Dixit - Poem by Gerard Donnelly Smith
Plaisirs d'Amour: Jesuzzy Lib-Labs Meet Dick Cheney - by Gilles d'Aymery
Animal Park - Story by Henry Pelifian
---
Published July 5, 2004
---
[Copyright]-[Archives]-[Resources]-[Main Page]
---
Swans
http://www.swans.com