Campaign Financing
by Jan Baughman
December 1, 2003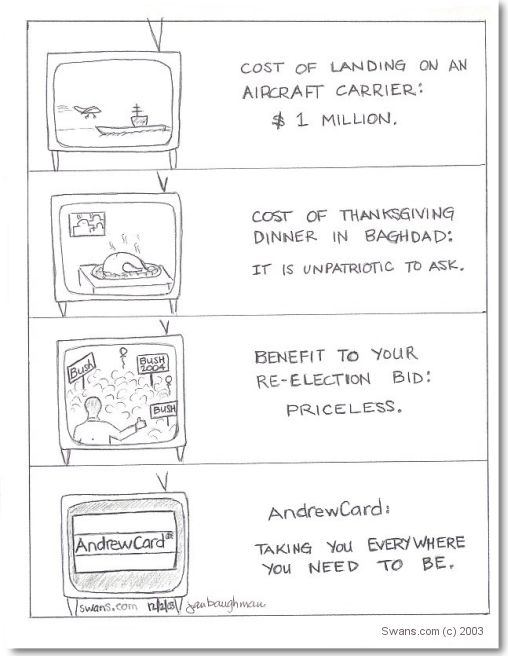 · · · · · ·



Resources

Other Cartoons by Jan Baughman

Operation Iraqi Freedom (March 2003)
It's the Issues, Stupid (February 2000)


Iraq on Swans



Jan Baughman on Swans (with bio).

Do you wish to share your opinion? We invite your comments. E-mail the Editor. Please include your full name, address and phone number. If we publish your opinion we will only include your name, city, state, and country.

Please, feel free to insert a link to this cartoon on your Web site or to disseminate its URL on your favorite lists. However, please DO NOT steal, scavenge or repost this work without the expressed written authorization of Swans. © Jan Baughman 2003. All rights reserved.
· · · · · ·
This Week's Internal Links
The Silly Season Amidst Terminal Decay - by Gilles d'Aymery
Homeless - by Michael W. Stowell
Of Meds And Mendacity - by Phil Rockstroh
Tea Leaves - by Richard Macintosh
Matt Gonzalez For Mayor Of San Francisco - by Jan Baughman
Hermit Crabs and Maître d's: Arrogance in Physics - by Manuel García, Jr.
The Question Of Turnaround - by Vanessa Raney
Chinua Achebe's Anthills of the Savannah - Book Review by Louis Proyect
Ethics And Priorities: Perspectives On Justice - Prose Poem by Scott Orlovsky
Additional Resources on Iraq - Dossier by Tanweer Akram
---
Published December 1, 2003
---
[Copyright]-[Archives]-[Resources]-[Main Page]
---
Swans
http://www.swans.com