Swans Commentary » swans.com
June 16, 2014
---
by Guido Monte
Multilingual Poetry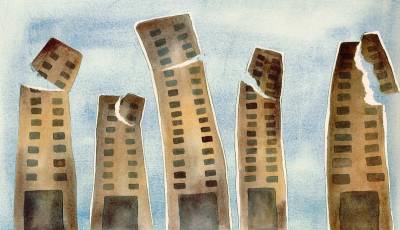 Buildings
© 2014 Nadine Kaadan
(Swans - June 16, 2014)
le monde tourne
el mundo se vuelve
the world turns,
but the pain remains.
the desert and the uproar.
we wander among messy houses,
abandoned,
we wander by car, by boat, by plane
running for no one knows where,
(for nowhere?)
looking bored
the news from bright screens.

the world is too tired of suffering,
now seeks rest.
we do not remember the past:
we continue in aenigmate mechanically,
while dropping the last snow,
martyrs still crying behind the loft.
the flower withered, the woman betrayed,
the dead end, a trumpet in the silence:
the sky never looks us from above
el cielo
nosotros

meanwhile here they're new horrors
aquí están los nuevos horrores,
horrors i no longer even have
the strength to imagine

erèipia màura tès zoès
says constantine,
black rubble of life
picture: Buildings by Nadine Kaadan (2014).

Since the age of 8, Nadine Kaadan hasn't stopped writing and illustrating children's books -- she simply knew that it was her calling in life. Her mission is to spread reading culture in the Arab world, in a way that is inspired by Syria's rich heritage. Nadine graduated from the Faculty of Fine Arts in the University of Damascus in 2007, and acquired a Masters in Illustration at Kingston University, UK. Currently she is doing a second Masters in Art and Politics at Goldsmiths University in London, UK. She has published over 15 books in the Arab region with various publishers, and her stories sometimes touch on delicate subjects like the current troubled situation in the Arab world, and other times they are just plain fun. Her book Leila... Answer Me! won the Anna Lindh Award for the Best Fiction Book for children with special needs, and now it's officially being used to teach Arabic language courses at Harvard University, Tufts University, and Wellesley College in the United States.

"constantine" is Constantine Kavafis, and his verse is transliterated by Irene Parisi.
· · · · · ·
Care about Guido's work? Then please consider a donation. Thank you.
· · · · · ·
Legalese
Feel free to insert a link to this work on your Web site or to disseminate its URL on your favorite lists, quoting the first paragraph or providing a summary. However, DO NOT steal, scavenge, or repost this work on the Web or any electronic media. Inlining, mirroring, and framing are expressly prohibited. Pulp re-publishing is welcome -- please contact the publisher. This material is copyrighted, © Guido Monte 2014. All rights reserved.
Have your say
Do you wish to share your opinion? We invite your comments. E-mail the Editor. Please include your full name, address and phone number (the city, state/country where you reside is paramount information). When/if we publish your opinion we will only include your name, city, state, and country.
About the Author
Guido Monte on Swans (with bio). Also, please check Guido's entry on Wikipedia. (back)
· · · · · ·