Swans Commentary » swans.com
March 26, 2012
---
by Guido Monte & Claudine Giovannoni
Multilingual Poetry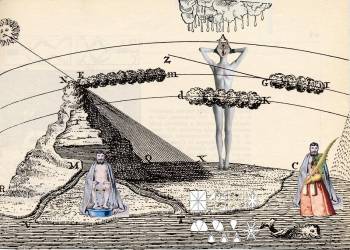 winter
© 2012 Pippo Zimmardi
(Swans - March 26, 2012)
wind gemidos of winter
of yellow, and red leaves
to a dark floor, and
stop, nothing to say
no palabra
no volver
nothing in front of
perdute nuvole-clouds
and vapours,
rain, fire, burst
chasms, segni
another dead leaf
another cloud
and dead thoughts
over my mind
of a dying animal
of desperate people
of starvation
of my times' horror,
no word to say
in front of them
After dark, when all seems lost,
we experiment the continuity of Light!
Dualité indissoluble,
busqueda de los seres viventes
quest of humanity,
since we are all striving
recherche d'une raison
le long chemins dangereux.
Dia y noche
day and night.
Invierno followed by spring,
l'esperanza ayuda la sobrevivencia!
La condition humaine
hooked on this frustrated flesh
the only way to achieve freedom.
Liberté que n'est pas ici
not above this material world
shouldn't be so difficult
every time I come across otra persona
souhaiter en silence, without words,
felicidad
That could be the start
poiché solo amore love
can fight against
todas las guerras,
chaque conflict...
Claudine Giovannoni calls herself a "World citizen." Crossing the boundaries of the Earth, Water, and Air, she lives experiences that touch her soul bringing her to publish her writings. Her novels are in Italian: Il Kumihimo del Sole, 2005 - Nebbie nella Brughiera, 2007 - Il Cristallo della Pace, 2010 (Seneca Edizioni, Torino). She is a dreamer and an idealist, and lives in Switzerland.

picture: winter, by Pippo Zimmardi (2012).
· · · · · ·
Care about Guido's work? Then please consider a donation. Thank you.
· · · · · ·
Legalese
Feel free to insert a link to this work on your Web site or to disseminate its URL on your favorite lists, quoting the first paragraph or providing a summary. However, DO NOT steal, scavenge, or repost this work on the Web or any electronic media. Inlining, mirroring, and framing are expressly prohibited. Pulp re-publishing is welcome -- please contact the publisher. This material is copyrighted, © Guido Monte 2012. All rights reserved.
Have your say
Do you wish to share your opinion? We invite your comments. E-mail the Editor. Please include your full name, address and phone number (the city, state/country where you reside is paramount information). When/if we publish your opinion we will only include your name, city, state, and country.
About the Author
Guido Monte on Swans (with bio). Also, please check Guido's entry on Wikipedia. (back)
· · · · · ·