Swans Commentary » swans.com
August 15, 2011
---
I Want My NYT
Rural Delivery, from the Sublime to the Ridiculous
by Jan Baughman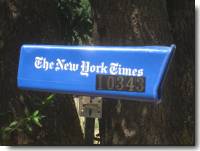 NYT famous blue tube
Read Chapter 1 of this saga, Help Wanted: A rural struggle with The New York Times delivery

(Swans - August 15, 2011) On July 3, we published Chapter 1 of my article recounting Swans headquarters' ongoing rural struggle over The New York Times Sunday delivery. At the conclusion of said article, we were hopeful that my escalating letters to "Customer Care" had had an impact and that we were turning a corner in ensuring that our Sunday paper would be delivered. Of course, that article was completed, edited, and formatted well before that Sunday's test of time and once again, The Times failed to deliver. After three frustrating months, I finally began to lose my sense of humor. Thus began Chapter 2 of the saga...
On Sunday, July 3, 2011, Jan Baughman wrote:
Dear Mr. Hennessey, Mr. Rivera, Ms. Rodgers, Mr. Sulzberger, Mr. Heekin-Canedy,

Well, another Sunday came and went and no newspaper was delivered. As my husband said when he came back to the house empty-handed, "This is getting ridiculous." Actually, I think it got ridiculous about two months ago. At what point do we save ourselves the frustration and aggravation, call it quits, and concede that it is not possible to deliver The New York Times to my house in Boonville, California?

If you're interested, I've published an entire account of this saga:

Help Wanted: A rural struggle with The New York Times delivery

I know -- if there is anything else you can do to help me, I can e-mail you at customercare@nytimes.com or call you at 1-800-NYTIMES (1-800-698-4637) from 5 a.m. to midnight Monday-Friday and 5 a.m. to 5 p.m. Saturday & Sunday (ET).

My satisfaction is very important to you.

Sincerely,
Jan Baughman
[address] Highway 128
Boonville, CA 95415
[phone]
Account [...]
I was actually tempted to just surrender and call it quits -- until Gilles reminded me that we need to remain subscribers to have unlimited on-line access. (We do, in fact, read the NYT on-line during the week; it's just Sunday that is paper-sacrosanct.) And though he found this latest missive a bit nasty compared to the previous ones, with it, my Customer Care letter-writing campaign was at last escalated to higher powers and the saga was handed over to Gilles since he works from home and is there to field the calls to the phone number on our account.
Tuesday, July 5, he received a call from one "Oswald," who stated that "we're very, very sorry and definitely seriously looking into this matter." He indicated that he visited Swans and read my article [The New York Times reading Swans!]. Gilles was skeptical, and pointed out that we've heard "we'll take care of this" on several occasions, to no avail. Gilles asked him if he was another Customer Care representative. Oswald responded that he was an Actual Person of Authority in the New York corporate office, working with the director of circulation, and our case had been "called to our attention and we are going to fix the problem." When Gilles told him that for the past three weeks we had not received the paper, and even after a personal call the previous week from a Customer Care representative we did not get it, and that when we do get it, sometimes sections are missing, his response was "Oh my god..." Exactly. He gave Gilles his phone number and said to call any time. Meanwhile, the following day Gilles received a call from Hank O'Day, a Times regional coordinator for Southern California, based in Los Angeles (he took the case because the Northern California coordinator was on holiday), who phoned to say that he was sending a New York Times delivery tube to the distribution center in Lake County, about 25 miles east of Boonville, to be installed at the bottom of our hill. Apparently, the delivery drivers are not permitted on dirt roads, so delivery directly to our house is not an option. Hank also gave Gilles his phone number. Finally, a small ray of hope began to shine over this dark saga...
That Friday, Gilles received a call from Larry in Lake County, who said he had received the tube and would deliver and install it early the next week. Now we had an entire team of people working to get us our newspaper -- it takes a cross-continent village! Turns out Larry is the Monday-through-Saturday delivery person whose route runs from Lakeport through the Anderson Valley to Comptche (about 75 miles), delivering about 200 copies of the Santa Rosa Press Democrat (owned by The New York Times company), 50 New York Times, and 50-60 San Francisco Chronicle. Larry indicated that he does deliver to the local market in Philo, contrary to what a Customer Care representative told Gilles (see Chapter 1). His Sunday non-deliverer is a young kid who has worked with him for over a year -- about three months too long, in my estimation.
Late Saturday afternoon Larry called again to confirm directions to our house so that he could relay them to his Sunday stand-in and ensure the paper was a) delivered and b) delivered to its proper location. I gave directions then passed the phone to Gilles, who discussed the logistics of getting the tube and installing it. Gilles suggested that the non-deliverer call Sunday morning when he arrives in Boonville and Gilles would meet him at the bottom of the road to show him where to leave the paper.
Sunday morning arrived and the non-deliverer did not call, so I took a chance and headed down the hill at an early 7:45 (the paper is to be there by 8:30, though it's usually there before 8 -- when it is actually delivered). As I neared the bottom, there, under the Vista Ranch sign, lie in wait the Sunday New York Times, just like the days of yore. Even though the Chihuahua at [the wrong address Highway 128] had marked his territory (or made an editorial comment) on the plastic bag meant to protect the paper from rain (and dog pee) as he's always done, I felt like I'd awakened on Christmas morning and found just what I wanted under the tree! Around 12:30, Hank called to make sure we got the paper (yes, we did -- and the whole paper on top if it -- thank you very much!), check whether we got the tube (no, we did not), and remind us to call him if we have problems (that, we will).
By the following Thursday, Larry and the tube had not shown up so Gilles left a message on Hank's answering machine to let him know. The following morning, having not heard back from him, Gilles called again and this time Hank answered. "Look, Gilles, I'm actually working on this right now. Give me a few minutes and I'll call you back," which he did. He told Gilles that Larry would deliver the tube on Saturday, and he asked Gilles to call his office and leave a message when it was done. Following that was a 15-minute conversation about the NTY, the best American paper by far, and the nuts and bolts of delivery and how combining delivery of several papers on the same route was lowering cost and allowing papers like the NYT to be delivered all around the country, to the extent that the NYT now sells more papers around the country than it does in New York. They discussed politics and the economy (which Hank agrees is not coming back; he's sorry for the next generation who will get a mess to deal with). Hank, it must be said, is extremely genial, helpful, and -- small world -- knows the Anderson Valley very well because in his youth he used to deliver the Ukiah paper here.
Larry called later that day to advise he'd come the next morning. He actually did arrive with the famous blue NYT tube and a steel post to hold it. To hammer in the post, Larry, a heavy-set man in his 60s with a big beard, brought with him a small hatchet with a 10" handle and rounded hammer side. Try pounding a steel post in the ground with a rounded hammer... Seeing that, Gilles drove back to the house to get two different mallets for him to try. Larry started pounding but it went nowhere and he said he didn't have the strength for it. Gilles was not inspired to take over (this was a Swans weekend and he had to focus on priorities). Larry assured him that he'd have the non-deliverer complete the job Sunday morning, but he said he would go ahead and attach the tube to the post. Fastened to the bottom of the tube is a 90-degree flat bracket that is designed for attaching it to a 4x4 wooden post. Turns out that Larry didn't bring the bolts so he couldn't attach it. He said to Gilles that was all they'd given him. (Gilles to self: "Didn't you check what you received???") Larry said he'd never done this before (and still hasn't). And, by the way, during all the fumbling and bumbling, Larry kept the engine of his SUV running...
Gilles left a message for Hank, as he'd requested, with the update.
The following morning was filled with its usual Sunday suspense, in addition to wondering if the non-deliverer would complete the installation. Not wanting to miss the finish of Stage 15 of Le Tour de France, Gilles took a chance at 7:45 -- no paper yet. I went at 8:30 and there, resting against the big oak tree, was the steel post with the unattached tube placed over it, and the newspaper dangling inside the plastic bag, which was impaled on the bracket that under normal circumstances would be used to attach the tube to the post. It's hard to explain, and I had to have a picture, so I headed back home to fetch the camera.
| | |
| --- | --- |
| Unassembled NYT tube | Impaled paper |
Around 9:30 a.m. Hank phoned to ask if we received the paper and if the tube had been installed. I responded affirmatively to the former, thanked him for intervening on our behalf, and assured him that when I write Chapter 2 he will be represented favorably. Then I passed him to Gilles to answer the latter. All we could do was laugh, and laugh we did. We got Hank's e-mail address to send him the photo (and add him to Swans distribution list). Hank said that if he weren't 500 miles away he would get in his car and drive over to personally install the tube. Gilles said no problem, we'll take it to the local hardware store and figure out a way to attach it to the post. We drove down the hill that afternoon, after having published Swans, and pounded in the post at a convenient spot along the side of the road where the non-deliverer couldn't miss it -- he wouldn't even have to get out of his car to place the paper -- and where once driving down to the bottom of the hill we could easily see if one was inside.
Later that week, Gilles bought a U-bolt to attach the tube to the post. Though it did require a bit of drilling on the bracket, he made it work. He also drilled two little holes at the top of the tube and used a piece of wire to attach the box to the steel post, so that top and bottom would be secured -- and Sunday, July 24, three weeks into Chapter 2, it received its debut delivery.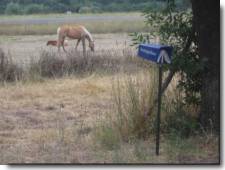 Bucolic tube debut
On Saturday, August 6, I concluded this Chapter as follows:
It still feels premature to declare this saga a success, but thanks to the intervention of Oswald, Hank, and even Larry and his delivery person, perhaps even to the myriad Customer Care representatives, we have received the Sunday paper for three straight weeks. It is unfortunate that it takes a cross-continent village to deliver The New York Times to Boonville, but it is reassuring that the villagers still care enough to make it happen, and that the Paper of Record perdures.
And yet...when I was writing those words, somewhere deep inside I felt it was premature to declare success and end the story. As I began Chapter 1, "This is an unfinished story whose plot and protagonists are ever changing; but without knowing how, when, or if it will end, and already exceeding 2,000 words and needing to meet a deadline, it's best to break it into chapters." Sure enough, no paper arrived the next day so at 9:00 I drove to Lemon's Market in Philo to purchase one; our tube was still empty when I returned. The non-deliverer had made his rounds in the valley and once again passed us by. Gilles called Larry to advise him that we didn't receive the paper, and Larry seemed annoyed, as he should. "He's missing quite a few -- I'd like to have a day off but I'm going to have to do it myself." Or hire a replacement, perhaps? (Gilles did not have the heart to let Hank know about this latest mishap.)
On Monday morning I left at 6:30 a.m. to head to San Francisco for my day job, and as I reached the bottom of the hill, there, in the tube, was the Sunday paper. It was old news by then, and already read -- but this saga, it appears, remains current and heretofore unfinished, and thus will be the subject of a future Chapter 3.
Continue to the Chapter 3 of this saga.
· · · · · ·
If you find Jan Baughman's work valuable, please consider helping us
· · · · · ·
Legalese
Feel free to insert a link to this work on your Web site or to disseminate its URL on your favorite lists, quoting the first paragraph or providing a summary. However, DO NOT steal, scavenge, or repost this work on the Web or any electronic media. Inlining, mirroring, and framing are expressly prohibited. Pulp re-publishing is welcome -- please contact the publisher. This material is copyrighted, © Jan Baughman 2011. All rights reserved.
Have your say
Do you wish to share your opinion? We invite your comments. E-mail the Editor. Please include your full name, address and phone number (the city, state/country where you reside is paramount information). When/if we publish your opinion we will only include your name, city, state, and country.
About the Author
Jan Baughman on Swans -- with bio. She is Swans co-editor. (back)
· · · · · ·