Swans Commentary » swans.com
October 24, 2011
---
by Guido Monte
Multilingual Poetry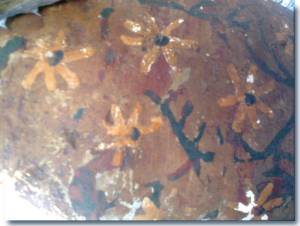 flowers to alda
© 2011 Guido Monte
(Swans - October 24, 2011)
years ago, pendant les années soixante
with your mind of a child, alda
(girl-woman of pain)
you went into a mental hospital,
into the labirinto sagrado
full of bad smells, shit and urine on the floor.
and you helped the artist pierre to paint
du doigt dans la poussière, but at last
they locked him in another prison-hospital
for chronically sick people.

then, after some electroshocks,
you were not able to understand
if you were really mad or not:
after a month,
in a confinement cell for raving idiots,
as expectant mother,
you understood the mental hospital
was the place where you could die,
toute seule, with no friends,
in a spin, el lugar donde podias
morir en un estado confusional.

and you sit on old seats with others,
in silence,
maintenant en attendant la mort,
you don't know if you're a woman,
no more, and los angeles que
bajan del cristal de la ventana.

and you see other patients dying,
you kiss their lips,
but they cannot hear you,
pentothal makes the world go round
quickly around your head,
while attendants strap you down to a bed;
you cry to the iron bars at the window,
you think to be again an antiguo reptil
prehistorico que sueña de besar la hierba,
qui rêve de baiser l'herbe.

an old inpatient saw you
and slapped you, but you kissed her hand,
besaste su mano because
it could be your mother's hand,
et elle pensait que tu étais sa fille.

also without love and
intoxicated by too strong psychotropics
you tried the same to contemplate
collected cards cut out
and pressed on a windowpane,
but nobody could recognize you anymore,
no longer the person you were,
you're only a broken guitar
you became viuda de ti misma,
la veuve de toi même.

for you only the silence of your writing,
for telling on solitude of forgotten people,
the strings to bind your hand and your foot
to the prison-bed of pain.

now you are not,
quizas miras todo esto desde muy lejano,
from the end of infinite
en fumant comme d'habitude ta cigarette
lonely again on the air,
and you whisper something in my ear,
about antiguos amores para pazientes poetas,
and remember the interior absence of people
out of touch with reality,
people existing but not living, hell
of prison out and prison inside...

but about our "sane" world, you know it,
world's official criminal madness and
wars, les filières bureaucratiques
pour des homicides legalisés,
about them we cannot speak,
it's still forbidden, es ilegal.
The author thanks Giusy Chirco, Olga Milazzo, and Francesca Saieva.

picture: flowers to alda by Guido Monte (2011).

To learn more about Alda Merini, a pure-hearted great Italian poet, see http://en.wikipedia.org/wiki/Alda_Merini
· · · · · ·
Care about Guido's work? Then please consider a donation. Thank you.
· · · · · ·
Legalese
Feel free to insert a link to this work on your Web site or to disseminate its URL on your favorite lists, quoting the first paragraph or providing a summary. However, DO NOT steal, scavenge, or repost this work on the Web or any electronic media. Inlining, mirroring, and framing are expressly prohibited. Pulp re-publishing is welcome -- please contact the publisher. This material is copyrighted, © Guido Monte 2011. All rights reserved.
Have your say
Do you wish to share your opinion? We invite your comments. E-mail the Editor. Please include your full name, address and phone number (the city, state/country where you reside is paramount information). When/if we publish your opinion we will only include your name, city, state, and country.
About the Author
Guido Monte on Swans (with bio). Also, please check Guido's entry on Wikipedia. (back)
· · · · · ·