Swans Commentary » swans.com
September 26, 2011
---
Island water (Walcott n.3)
,
by Claudine Giovannoni & Guido Monte
Multilingual Poetry
To Derek Walcott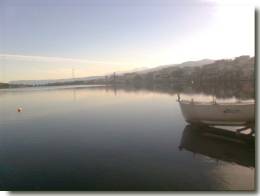 porticciolo
© 2010 Guido Monte
(Swans - September 26, 2011)
je me trouve encore at home,
mais maintenant mon esprit
poursuit des étoiles lointaines.
le rêve d'une maison au bord de la mer en été,
dreaming the verses of brother derek dans ma vie,
perfect verses like
"island water"
and i see his verses
where derek sees the sail that,
"at the rain's edge"
at last
"will lose sight of islands..."
Comment by Francesca Saieva: Un château de sable est ma maison au bord de la mer. Et les mots d'eau écrivent sur des voiles blanches à l'horizon. L'équilibriste fatigué est assis à la frontière, il pousse des soupirs, pendu à la corde en étendant ses pensées; aux bords, des troux filtrent la lumière tel que des déchirures; les poissons élégants dansent à la suite d'engloutis plongeons humains. "Porque abrem as coisas alas para eu passar?" (Pessoa). Entre le rêve et la réalité mon île vit, maintenant les voiles se déploient. Il est temps de s'en aller... au bord de la mer seulement le flot, mon château n'existe plus... "Mas há sempre coisas atrás de mim" (Pessoa).

Claudine Giovannoni calls herself a "World citizen." Crossing the boundaries of the Earth, Water, and Air, she lives experiences that touch her soul bringing her to publish her writings. Her novels are in Italian: Il Kumihimo del Sole, 2005 - Nebbie nella Brughiera, 2007 - Il Cristallo della Pace, 2010 (Seneca Edizioni, Torino). She is a dreamer and an idealist, and lives in Switzerland, where she shares with her family the love for Nature with the greatest respect and veneration.

Picture: porticciolo by Guido Monte (2010).

Learn more about Derek Walcott on Wikipedia.
· · · · · ·
Care about Guido's work? Then please consider a donation. Thank you.
· · · · · ·
Legalese
Feel free to insert a link to this work on your Web site or to disseminate its URL on your favorite lists, quoting the first paragraph or providing a summary. However, DO NOT steal, scavenge, or repost this work on the Web or any electronic media. Inlining, mirroring, and framing are expressly prohibited. Pulp re-publishing is welcome -- please contact the publisher. This material is copyrighted, © Guido Monte 2011. All rights reserved.
Have your say
Do you wish to share your opinion? We invite your comments. E-mail the Editor. Please include your full name, address and phone number (the city, state/country where you reside is paramount information). When/if we publish your opinion we will only include your name, city, state, and country.
About the Author
Guido Monte on Swans (with bio). Also, please check Guido's entry on Wikipedia. (back)
· · · · · ·