Swans Commentary » swans.com
August 29, 2011
---
Creative hints: vade mecum
by Guido Monte
Multilingual Poetry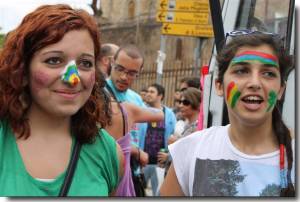 colores para crear mundos!
© 2011 Olga Milazzo
(Swans - August 29, 2011)
1. perceive the unity of all (also of all branches of human knowledge)

2. understand the human frailty and impermanence (anitya), in front of the state of the "ruah anavim," the helplessness

3. give prominence to what is peripheral, marginal, forgotten, the dregs, what is of madmen and disabled persons, of old and ill people (because the marginal is the real "centre")

4. feel the blending of everything, also of languages, of disparate verses and words, tambien en las lenguas, tambien en los versos, dans les langues et dans les vers aussi

5. if only one book is written, blend together, in one poetical composition, verses and dicta of various authors, versos y dichos, des vers et des proverbes de varios autores

6. use little block-notes, draw little drafts (also coloured); take notes of your sudden thoughts on little slips of paper, prendre des notes "sans forme," hints coming up at once before falling asleep, cojer apuntes sin forma, rapidamente antes del sueño, avant le sommeil

7. remember the eyes of a beast, los ojos de un perro, les yeux d'un chat, and the apocatastasis, and feel compassion for everything (c'est ça le seul sens qui reste, maintenant que tout sens s'évanouit à jamais dans le brouillard)

8. along far myths and tales, search for the common universal archetypes of all living beings, todos los seres, de tous les êtres vivants

9. walk along waste and deserted autumn beaches (of lakes or oceans), turn over the pages of old photos, of old memories, mirar fotos de recuerdos viejos, effeuiller des photos de vieux souvenirs

10. contemplate the primordial life creation, reminding that vision on the earth landscapes (but this evening, tout près de la fenêtre, je regarde only les dernières étoiles)
Translations: Francesca Saieva (French), Olga Milazzo (Spanish).

The author thanks Giusy Chirco.

picture: colores para crear mundos! by Olga Milazzo (2011).
· · · · · ·
Care about Guido's work? Then please consider a donation. Thank you.
· · · · · ·
Legalese
Feel free to insert a link to this work on your Web site or to disseminate its URL on your favorite lists, quoting the first paragraph or providing a summary. However, DO NOT steal, scavenge, or repost this work on the Web or any electronic media. Inlining, mirroring, and framing are expressly prohibited. Pulp re-publishing is welcome -- please contact the publisher. This material is copyrighted, © Guido Monte 2011. All rights reserved.
Have your say
Do you wish to share your opinion? We invite your comments. E-mail the Editor. Please include your full name, address and phone number (the city, state/country where you reside is paramount information). When/if we publish your opinion we will only include your name, city, state, and country.
About the Author
Guido Monte on Swans (with bio). Also, please check Guido's entry on Wikipedia. (back)
· · · · · ·