Swans Commentary » swans.com
August 15, 2011
---
Carribean Union (Walcott n.1)
by Claudine Giovannoni & Guido Monte
Multilingual Poetry
To Derek Walcott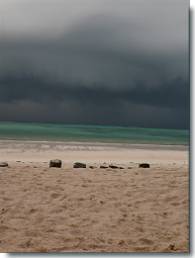 Dhoruba*Tanpèt (omaggio a D. Walcott)
© 2007 Emanuele Mobiglia
(Swans - August 15, 2011)
"then all the nations of birds lifted together the huge net of the shadows
of this earth in multitudinous dialects..."
the brother derek says,
unity of cada cosas, of all the tongues
unity: a way of compassion,
tambien mi vista se vuelve sincera,
Comment by Francesca Saieva: Des conduites de solitude (Sartre) tel des échardes au fond. Et les mains se serrent au temps, les couleurs se lavent à l'eau. Des perles tel que "noirs de notes" pendant que l'écoulement de tout est déjà dans les fentes d'un rocher. Il est impossibile de couper la phrase infinie maintenant que le temps n'existe que dans nos mots étrangers. Car un peuple migrateur ne s'apaise de coquilles -- mais il troque -- les vérités et les illusions, toujours (Nietzsche). Désormais la multitude et son zéro s'arrête dans la tour du "non-sens," comme un vieux phare abandonné, entre de blancs espaces et des fenêtres d'eau sur nos incompréhensions, maintenant qu'un océan d'air se lève (B. Holm) dans la chambre-île.

Claudine Giovannoni calls herself a "World citizen." Crossing the boundaries of the Earth, Water, and Air, she lives experiences that touch her soul bringing her to publish her writings. Her novels are in Italian: Il Kumihimo del Sole, 2005 - Nebbie nella Brughiera, 2007 - Il Cristallo della Pace, 2010 (Seneca Edizioni, Torino). She is a dreamer and an idealist, and lives in Switzerland, where she shares with her family the love for Nature with the greatest respect and veneration.

Picture: Dhoruba*Tanpèt (omaggio a D. Walcott) by Emanuele Mobiglia (2007).

Learn more about Derek Walcott on Wikipedia.
· · · · · ·
Care about Guido's work? Then please consider a donation. Thank you.
· · · · · ·
Legalese
Feel free to insert a link to this work on your Web site or to disseminate its URL on your favorite lists, quoting the first paragraph or providing a summary. However, DO NOT steal, scavenge, or repost this work on the Web or any electronic media. Inlining, mirroring, and framing are expressly prohibited. Pulp re-publishing is welcome -- please contact the publisher. This material is copyrighted, © Guido Monte 2011. All rights reserved.
Have your say
Do you wish to share your opinion? We invite your comments. E-mail the Editor. Please include your full name, address and phone number (the city, state/country where you reside is paramount information). When/if we publish your opinion we will only include your name, city, state, and country.
About the Author
Guido Monte on Swans (with bio). Also, please check Guido's entry on Wikipedia. (back)
· · · · · ·