Swans Commentary » swans.com
July 4, 2011
---
by Claudine Giovannoni & Guido Monte
Multilingual Poetry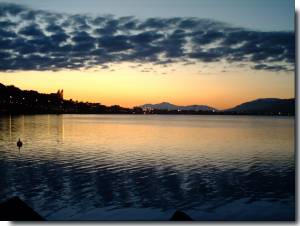 senza titolo
© 2008 Guido Monte
(Swans - July 4, 2011)
l'absence de choses et d'idées
pour se regarder en soi même:
dream of a crowd, of nothing,
of vanity rapetisse en devenant lui-même néant.
noire de fumée dans une terre mouillée :
des visages effrayés et des verres brisés.
is not the only path?
emprisonné
une larme
dont la destinée inconnue est
dans une chambre oubliée...
das letzte land
Comment by Francesca Saieva: : J'ai entendu le vent et j'ai écouté sa voix; maintenant entre les nuages, les souffles poussent les idées le long de la fente du blanc escarpement rocheux. Un instant après l'autre, en planant sur la surface de l'eau, tel qu'une glace, le vertige trouble la veille de mon sommeil. De loin on m'observe; la déesse du non-être... elle noue les tresses, "a deusa do não-ser tece ambas as tranças" (F. Pessoa); le vol est déjà engagé. Un petit avion à l'aile cassée "nas veredas sobria do que sonho" (F. Pessoa), dans les chemins ombreux de mon rêve, de mon Temps. Inconnue la vie et sa fuite... Écoute-moi, l'atterrissage est encore loin... et je ne vois qu'un jardin vertical, "um jardim vertical," pour mes désirs.

Claudine Giovannoni calls herself a "World citizen." Crossing the boundaries of the Earth, Water, and Air, she lives experiences that touch her soul bringing her to publish her writings. Her novels are in Italian: Il Kumihimo del Sole, 2005 - Nebbie nella Brughiera, 2007 - Il Cristallo della Pace, 2010 (Seneca Edizioni, Torino). She is a dreamer and an idealist, and lives in Switzerland, where she shares with her family the love for Nature with the greatest respect and veneration.

Picture: senza titolo by Guido Monte (2008).
· · · · · ·
Care about Guido's work? Then please consider a donation. Thank you.
· · · · · ·
Legalese
Feel free to insert a link to this work on your Web site or to disseminate its URL on your favorite lists, quoting the first paragraph or providing a summary. However, DO NOT steal, scavenge, or repost this work on the Web or any electronic media. Inlining, mirroring, and framing are expressly prohibited. Pulp re-publishing is welcome -- please contact the publisher. This material is copyrighted, © Guido Monte 2011. All rights reserved.
Have your say
Do you wish to share your opinion? We invite your comments. E-mail the Editor. Please include your full name, address and phone number (the city, state/country where you reside is paramount information). When/if we publish your opinion we will only include your name, city, state, and country.
About the Author
Guido Monte on Swans (with bio). Also, please check Guido's entry on Wikipedia. (back)
· · · · · ·