Swans Commentary » swans.com
May 9, 2011
---
by Guido Monte
Multilingual Poetry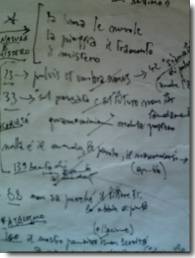 un tempo
© 2011 by Guido Monte
(Swans - May 9, 2011)
white home, a garden, a sound...
the doors of stained glass,
threads of memory a white bed, silence
an eye sees the sun and a petrified soul,
melting of a red moon of sirocco,
to the lethe river, forgotten by our world
même ma vue devient plus sincère,
à côté des balancelles abandonnées
et aux fleurs de crépuscule,
pour me réveiller des milions d'années en arrière,
dans la nostalgie d'un passé lointain
qui ne pourra plus retourner.

je veux me souvenir des visages que je ne connais pas,
les gouttes de pluie d'hiver sur les toits humides,
les petits cris mystérieux des moineaux,
les miracles qui ont aucun sens.
Last verses translated into French by Floriana Cusimano.

Picture: un tempo by Guido Monte (2011).
· · · · · ·
Care about Guido's work? Then please consider a donation. Thank you.
· · · · · ·
Legalese
Feel free to insert a link to this work on your Web site or to disseminate its URL on your favorite lists, quoting the first paragraph or providing a summary. However, DO NOT steal, scavenge, or repost this work on the Web or any electronic media. Inlining, mirroring, and framing are expressly prohibited. Pulp re-publishing is welcome -- please contact the publisher. This material is copyrighted, © Guido Monte 2011. All rights reserved.
Have your say
Do you wish to share your opinion? We invite your comments. E-mail the Editor. Please include your full name, address and phone number (the city, state/country where you reside is paramount information). When/if we publish your opinion we will only include your name, city, state, and country.
About the Author
Guido Monte on Swans (with bio). Also, please check Guido's entry on Wikipedia. (back)
· · · · · ·