Swans Commentary » swans.com
February 28, 2011
---
Tamah (Darkness)
C. Giovannoni
,
P. Handke
,
G. Monte
by Claudine Giovannoni & Guido Monte
Multilingual Poetry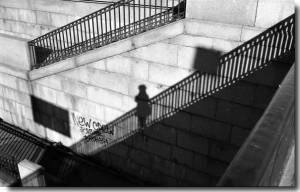 Self
© 2010 by Sophie Sherova
(Swans - February 28, 2011)
Beyond time and believing
Derrière la passion des hommes et des femmes
Atman
Ego [sum]

Busqueda sin tiempo y lugares
Achieving nothing but emptiness
Into the core of our souls
Adentro el corason espiritual
Ta Tvam asi. That One you are
Who search for the true himself?
Duality reach meaninglessness
Who am I?
Ta Tvam asi...
Atman
Or maybe is there disbelieve
Into believing...
"Warum bin ich und
warum nicht du?"
¿Que yo no soy yo y tú no eres tú?
Un sol respiro
The flow of pure Energy
Union dans les affections
tamah
tamah, darkness
too many men inside
only to forget life and tvam, yourself

but seeing the atamanam, the unity of the whole
you cannot hate, no more
Comment by Francesca Saieva: : Qu'est-ce que ce qu'emprisonne et délivre la pluie tandis que l'absence prend l'espace? Dans le bilan des contraires il n'y a que la Différence; dans la voix de l'Éternel, la Prouve, pour nous -- épaves énormes et solitaires (Lafourgue) -- dans la nuit de nos "raisons." Deux visages seulement se cachent l'un à l'autre, de même que dans le tableau des amants... Ce sont le "Je" et le "Tu," enfermés dans l'aquarium de l'incompréhension. Et le calme sans écho (Lafourgue) attend encore une réplique par le clair reflet du monde (Schopenhauer) car le "voile" est tombé et la dualité n'existe pas; meintenant elle est libre, ne plus liée au faire (Bhagavadgita) et Tu... nir-dvandva: tat tvam asi.

Claudine Giovannoni calls herself a "World citizen." Crossing the boundaries of the Earth, Water, and Air, she lives experiences that touch her soul bringing her to publish her writings. Her novels are in Italian: Il Kumihimo del Sole, 2005 - Nebbie nella Brughiera, 2007 - Il Cristallo della Pace, 2010 (Seneca Edizioni, Torino). She is a dreamer and an idealist, and lives in Switzerland, where she shares with her family the love for Nature with the greatest respect and veneration.

Sophie Sherova is a Russian photographer.

Picture: Self by Sophie Sherova (2010).
· · · · · ·
Care about Guido's work? Then please consider a donation. Thank you.
· · · · · ·
Legalese
Feel free to insert a link to this work on your Web site or to disseminate its URL on your favorite lists, quoting the first paragraph or providing a summary. However, DO NOT steal, scavenge, or repost this work on the Web or any electronic media. Inlining, mirroring, and framing are expressly prohibited. Pulp re-publishing is welcome -- please contact the publisher. This material is copyrighted, © Guido Monte 2011. All rights reserved.
Have your say
Do you wish to share your opinion? We invite your comments. E-mail the Editor. Please include your full name, address and phone number (the city, state/country where you reside is paramount information). When/if we publish your opinion we will only include your name, city, state, and country.
About the Author
Guido Monte on Swans (with bio). Also, please check Guido's entry on Wikipedia. (back)
· · · · · ·