Swans Commentary » swans.com
April 19, 2010
---
Pavese and Bible, Blending of Translations
,
by Guido Monte and Novella Nicchitta
Multilingual Poetry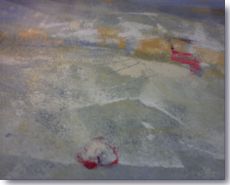 confusione
© 2009 Guido Monte
(Swans - April 19, 2010)
(
tohu wabohu,
and the land was left barren)
(et les ombres noires enveloppaient les profondeurs)
(bade korgolòdei dar ruie oghionusoh parmisad spirit on the waves)
(et aura divina super oceani undas spirit on the waves)
(et feliciorem iudicavi qui necdum natus est but best of all the never born)
tohu wabohu,
and the land was left barren...
Novella Nicchitta is a student at the Liceo "G. Meli" of Palermo. The fragment of Cesare Pavese, translated by Novella, is from his masterpiece Dialoghi con Leucò (1947).

Picture: confusione, by Guido Monte (2009).
· · · · · ·
Care about Guido's work? Then please consider a donation. Thank you.
· · · · · ·
Legalese
Feel free to insert a link to this work on your Web site or to disseminate its URL on your favorite lists, quoting the first paragraph or providing a summary. However, DO NOT steal, scavenge, or repost this work on the Web or any electronic media. Inlining, mirroring, and framing are expressly prohibited. Pulp re-publishing is welcome -- please contact the publisher. This material is copyrighted, © Guido Monte 2010. All rights reserved.
Have your say
Do you wish to share your opinion? We invite your comments. E-mail the Editor. Please include your full name, address and phone number (the city, state/country where you reside is paramount information). When/if we publish your opinion we will only include your name, city, state, and country.
About the Author
Guido Monte on Swans (with bio). Also, please check Guido's entry on Wikipedia. (back)
· · · · · ·