Swans Commentary » swans.com
February 22, 2010
---
by Guido Monte
(text of Monte translated by Virginia Ann Huth,
comment by Francesca Saieva)
Multilingual Poetry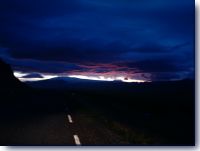 strada and nuit
© 2006 Guido Monte
(Swans - February 22, 2010)
Ho deciso
di ripetere le tue parole.
Hai lasciato la madre,
la madre piangeva
durante una cattiva estate
di fili spezzati e cose dimenticate.
Montagne luci soli, dove andare?
Ora viaggi verso il tuo desiderio pietrificato,
tu stesso pensi di poter essere un sasso.
Senti il vento che ti sfiora dal finestrino del treno,
vento di gabbiani magici,
e hai voglia di raccontare.
I've decided
To repeat your words.
You left your mother
Your mother crying
During a harsh summer
Of cords broken and things forgotten.
Mountains lights suns, where to go?
Now you travel toward your petrified desire,
You believe you can be a stone
You hear the wind that grazes you from the train window
Wind of magic gulls
And you want to recount
La caffeina è cibo per te, sotto il tuo sole rosso
la sabbia ti ferisce gli occhi
ma devi guardare lo stesso la strada estiva,
di sabbia, pali di legno e ombrelloni, di fuochi
dove si nasconde l'origine di Dio,
di aria acqua e terra che credi figlie del fuoco,
dell'ordine disuguale degli elementi
prima che si chiuda il sipario,
prima che si chiuda quello che chiami
il nostro lungo e solitario gioco umano
imbastito nel circuito del tempo.
Vorresti scolorire il mondo correndo
sulla tua bici bianca senza copertoni,
per scoprire ciò che si agita tra i rami,
ma ti resta solo un vento freddo
che trascina le foglie.
Caffeine is food for you, under your red sun
The sand burns your eyes
But just the same, you must gaze at the summer road
Of sand, stakes of wood and big umbrellas, of fire
Where's hidden the beginning of God,
Of air water earth, children of fire for you,
Of the unequal order of the elements
Before the curtain closes,
Before that which you call closes
Our long and lonely human game
Sketched in the circuit of time.
You'd like to fade the world soaring
On your white bike without tires
To discover that which is agitated between the leaves
But only a cold wind remains
That drags the leaves along.
Davvero non capisco ciò che vedo in te
non sono te infatti
e i tuoi occhi non mi appartengono,
anche se ora ripeto passo passo le tue parole,
delle antiche case distrutte
dove senti la tua perduta estate di bambino.
I cannot understand that which I see in you
I'm not you though
and your eyes don't belong to me
even if now I repeat your words verbatim
of antique houses destroyed
where you feel your lost boyhood summer.
Sei solo.
You are alone.
Dietro il passato, davanti il futuro,
e quella domanda che non può essere fatta,
ora soltanto suoni dimenticati nella notte.
Behind the past, ahead the future,
and that question that can't be asked,
is now only a song, forgotten in the night.
Francesca Saieva's comment: Clung to a broken stalk...what you had cut off, a long time ago, now is coming to light from a petrified soul, melting under the sun once again... "time is with me, red smelling rose" (Hikmet). Words-petals, air blow of wind, on the road. And I "imagine leaves full of soot, a red moon of sirocco, a time without me..." (Monte) "Dull roots with spring rain," (Eliot) but you, again: What drugs the branch? A glance at the crossroads: desire and memory. A play, on the truth of my ear—play of your glance. "Nothing of my journey, only that nostalgia" (Hikmet).

Picture: strada and nuit, by Guido Monte (2006).
· · · · · ·
Please help our work by making a financial  contribution
· · · · · ·
Legalese
Feel free to insert a link to this work on your Web site or to disseminate its URL on your favorite lists, quoting the first paragraph or providing a summary. However, DO NOT steal, scavenge, or repost this work on the Web or any electronic media. Inlining, mirroring, and framing are expressly prohibited. Pulp re-publishing is welcome -- please contact the publisher. This material is copyrighted, © Guido Monte 2010. All rights reserved.
Have your say
Do you wish to share your opinion? We invite your comments. E-mail the Editor. Please include your full name, address and phone number (the city, state/country where you reside is paramount information). When/if we publish your opinion we will only include your name, city, state, and country.
About the Author
Guido Monte on Swans (with bio). Also, please check Guido's entry on Wikipedia. (back)
· · · · · ·