Swans Commentary » swans.com
November 15, 2010
---
l'âme archétype (lament of a prisoner)
by Claudine Giovannoni & Guido Monte
Multilingual Poetry
Comment by Francesca Saieva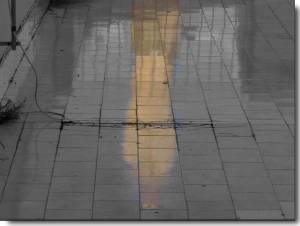 my donna sunset
© 2010 Nicola Spacca
(Swans - November 15, 2010)
La forteresse est l'âme qui aperçoit le continent de sable,
a fortaleza é a alma que mira ao continente de area.
Derrière le rocher que je suis en train de regarder par la fenêtre
(évident par le mot magique) je sens le coucher du soleil,
et je remets le départ à cause d'une lueur de neige sur les cailloux blancs.
Forêts, tours blanches, volcans fumants, genèse primordiale,
évocation de l'âme archétype.
Comment. Qu'est-ce qu'une forteresse dans le désert? Pas un château de sable... mais une forteresse seulement, edifiée dans le temps, en emprisonne l'âme. Les mains sont lasses maintenant, et sur le mur de brouillard une petite fenêtre; entre les doigts l'or de l'été en ce marécage d'hiver (Pasolini). Il est le temps de s'arrêter tels que des ombres sableuses sur les yeux plongés dans un rocher de mer (Pasolini). Et l'attente pour tout réveil qui meurt au jaillissement du rêve, est une petite vie avec des tubercules mortes, a little life with dried tubers (Eliot). Donc, qu'est-ce qu'une forteresse dans ce pays de neige sans mémoire, earth in forgetful snow? (Eliot) Une enveloppe pour nos fragilités... Maintenant que la pierre aride ne sonne pas d'eau, the dry stone no sound of water (Eliot), il n'y a qu'une maison de miroirs à la Veille du Temps.

Translation of Monte's verses by Paula Iglesias Garcia (into Galitian) and Francesca Saieva (into French).

Claudine Giovannoni calls herself a "World citizen." Crossing the boundaries of the Earth, Water, and Air, she lives experiences that touch her soul bringing her to publish her writings. Her novels are in Italian: Il Kumihimo del Sole, 2005 - Nebbie nella Brughiera, 2007 - Il Cristallo della Pace, 2010 (Seneca Edizioni, Torino). She is a dreamer and an idealist, and lives in Switzerland, where she shares with her family the love for Nature with the greatest respect and veneration.

Francesca Saieva teaches philosophy and pedagogy and was an adjunct professor at the University of Palermo (Italy).

Picture: my donna sunset, by Nicola Spacca (2010).
· · · · · ·
Care about Guido's work? Then please consider a donation. Thank you.
· · · · · ·
Legalese
Feel free to insert a link to this work on your Web site or to disseminate its URL on your favorite lists, quoting the first paragraph or providing a summary. However, DO NOT steal, scavenge, or repost this work on the Web or any electronic media. Inlining, mirroring, and framing are expressly prohibited. Pulp re-publishing is welcome -- please contact the publisher. This material is copyrighted, © Guido Monte 2010. All rights reserved.
Have your say
Do you wish to share your opinion? We invite your comments. E-mail the Editor. Please include your full name, address and phone number (the city, state/country where you reside is paramount information). When/if we publish your opinion we will only include your name, city, state, and country.
About the Author
Guido Monte on Swans (with bio). Also, please check Guido's entry on Wikipedia. (back)
· · · · · ·