Swans Commentary » swans.com
October 18, 2010
---
africa
Masarwas
, ,
C. Giovannoni
by Claudine Giovannoni & Guido Monte
Multilingual Poetry
Comment by Francesca Saieva
(translated by Michelle Abbott)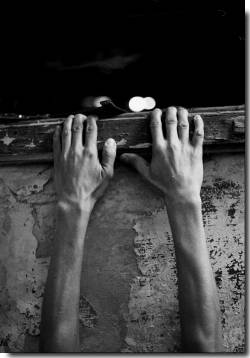 untitled
© 2010 Sophie Sherova
(Swans - October 18, 2010)
thora dhe kwa che che
spirit, awake to
entre tú y yo
under the same sky...
miroir les yeux
où j'ai lu douleur et désespoir,
come especho los ojos de los infants
je pleure en réalisant mes limites
appears the voice of night,
cries of the awakening earth,
détras del sonido llega la aurora
soften the glimmering sky,
now silenced, i lean and listen
thora dhe kwa che che
spirit, awake to
Comment. A mirror, perhaps something more than a window. A mirror in the night because the Beauty could rest to the call of the adorable Womb (Forte). Colours of earth and water through forgotten ways, wipe away tears. Malheur... the eyes look at the misfortune... a voice: who can comfort the pain? Mitleid, compassion for invisible bonds this night, Guardian of the Dawn (Forte)

The Bushman verse thora dhe kwa che che is the refrain on a song of the Masarwas people, from an essay by S. Dornan (1917).

Guido Monte thanks Viviana Fiorentino and Tancredi Caruso.

Claudine Giovannoni calls herself a "World citizen." Crossing the boundaries of the Earth, Water, and Air, she lives experiences that touch her soul bringing her to publish her writings. Her novels are in Italian: Il Kumihimo del Sole, 2005 - Nebbie nella Brughiera, 2007 - Il Cristallo della Pace, 2010 (Seneca Edizioni, Torino). She is a dreamer and an idealist, and lives in Switzerland, where she shares with her family the love for Nature with the greatest respect and veneration.

Francesca Saieva teaches philosophy and pedagogy and was an adjunct professor at the University of Palermo (Italy).

Sophie Sherova is a Russian photographer. About her, see
http://www.flickr.com/photos/sophie_sherova/, and her "fotoracconto" on
http://www.repubblica.it/persone/2010/09/19/foto/il_fotoracconto_un_anno_alla_finestra-7227024/15/

Picture: untitled, by Sophie Sherova (2010).
· · · · · ·
Care about Guido's work? Then please consider a donation. Thank you.
· · · · · ·
Legalese
Feel free to insert a link to this work on your Web site or to disseminate its URL on your favorite lists, quoting the first paragraph or providing a summary. However, DO NOT steal, scavenge, or repost this work on the Web or any electronic media. Inlining, mirroring, and framing are expressly prohibited. Pulp re-publishing is welcome -- please contact the publisher. This material is copyrighted, © Guido Monte 2010. All rights reserved.
Have your say
Do you wish to share your opinion? We invite your comments. E-mail the Editor. Please include your full name, address and phone number (the city, state/country where you reside is paramount information). When/if we publish your opinion we will only include your name, city, state, and country.
About the Author
Guido Monte on Swans (with bio). Also, please check Guido's entry on Wikipedia. (back)
· · · · · ·