Swans Commentary » swans.com
January 25, 2010
---
Good Nudes From My Naughty World
by Art Shay
(Swans - January 25, 2010) Two years ago The New Yorker did a mocking article on my furtive nude picture of Simone de Beauvoir. It had appeared on the January 2008 cover of the French magazine Le Nouvel Observateur to mark my old friend and feminist's 100th birthday. Her Chicago novelist lover, when they were both around forty, was my buddy, the novelist and intellectual woman fancier Nelson Algren. He had begged me to find a bathtub for Madame. He bathed at the Division Street Y, and the Y, in 1950, was not yet up to letting a woman into their natatorium.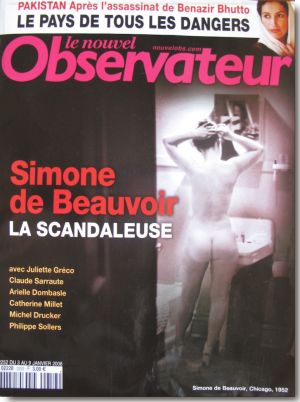 La scandaleuse © 1950 Art Shay
Poor Nelson lived in a ten-buck-a-month apartment that was bathless. I borrowed the apartment of a young woman I knew. Thus I photographed Madame, whose principal workouts in Chicago were in bed and schpatziering on Chicago's Maxwell Street shopping for bargains that were even cheaper than those on the Paris bourse -- witness those half-height heels she wore apres le bain while doing her hair. I caught her through the half-open door.
"It's quite a rear," The New Yorker writer Adam Gopnik gushed. "The picture was taken in 1950 by, of all people, an American -- the photographer Art Shay -- in, of all places, Chicago, where Beauvoir was canoodling bilingually with Nelson Algren."
To be singled out by The New Yorker as one "of all people, an American" who shot the picture in "of all places, Chicago" makes me feel like Ingrid Bergman stumbling upon Humphrey Bogart who as Rick says, "of all the gin joints in all the towns of the world, she walks into mine" while Dooley Wilson tinkles out "As Time Goes By" on the pleasantly off-key piano.
Said The New Yorker, or at least said their archly inaccurate writer, Adam Gopnik, who would prove to have one writing hand dipped in fiction, "Earlier this month, France was disrupted by the image of a woman both sexually alive and politically relevant -- defiant and proud and threatening. [It is a dorsal view, so I guess Gopnik must have seen a threat in the great philosopher's ass.] "And while that was going on, the president of the country was canoodling with a former model." Meaning no baby-fat-overblown girl like Monica Lewinsky, but one statuesque, slenderized Carla Bruni, who had appeared nude in fashion magazines with her little sex thatch trimmed, vertical entrance style, French mode. Her previous lovers, The New Yorker hint-hinted, had included Mick Jagger and Donald Trump. Playboy Sarkozy's lovers were unspecified, but reportedly included starlets, au pair girls, leggy Scandinavian screen rejects, international Slavic pussy girls, along with leggy bulge-titted young lawyers -- incipient native Deneuves -- on their way up or down. All denizens of "The Oo-La-La! division of the Mon Dieu! school of the American press." When in doubt, blame America!
"The French press," Gopnik gushed, "has seen in the story something so obviously second-rate and vulgar that it must in some way be American." His point was that the French press was torn between the People's right to know and "Do we really have to cover this crap?" Like we're doing here in this lead story of The New Yorker this very minute? Strangely, their masterful illustration by Tom Bachtell is a cute little drawing of Carla canoodling with Sarkozy," which ancillary subject was only a sidebar to my nude picture, original signed prints of which sold briskly at an exhibition I had at the Galerie Loeb at the time that pro-feminist pickets were expressing their outrage that the magazine had shown Madame's durable and lively ass -- (which she had sat upon to write The Second Sex partly under Nelson's encouraging pats!). The pickets had demanded a retraction and replacement by a picture of the rump of Le Nouvel Observateur's male editor.
Suddenly Gopnik garbles the story. He suggests that Nelson "who can't believe how [he's] lucked out with [his] French girlfriend to have her nude portrait taken in the bathroom [as if he ordered a print!] and French Presidents who can't believe how they've lucked out with their new babe to parade her around in a swimsuit, even at the price of looking a little tubby themselves."
Prevarication by half, because Nelson wanted a place for Madame to bathe, and would have been appalled -- was appalled -- that I'd sneaked a few frames of his beloved lady, who characteristically left her bathroom door open so she could talk to or listen up as Algren or Jean-Paul Sartre perorated.
She playfully called me, "You naughty man" when she heard my Leica shutter click, but merely laughed when I shot a few more frames. I didn't sell the picture -- indeed I thought the negatives had drowned when the Des Plaines River coursed through our first house in Des Plaines, Illinois -- until Nelson and Simone had died.
My fictional biographer writes, "...the French once knew better than anyone: there are worse things in this world than a little organized hypocrisy." Exactly, Adam. Matter of fact, since I was en route to my exhibition in France, my unanswered rejoinder to The New Yorker went unanswered, possibly because I suggested I planned to ask President Sarkozy if I could photograph his wife in the buff, as I had done Beauvoir. They must have thought I was kidding. I understand that Carla secretly visited my exhibition -- but never returned my call.
Which reminds me of another 50-plus-year-old nude picture I shot of a 23-year-old writer in then-Tanganyika. This last Friday night my very first color photography show opened before some 300 would-be Thomas Masters' Chicago Gallery voyeurs and sometimes collectors of my black and white works.
Dorothy Terry in 1956 © 1956 Art Shay
At the insistence of a friendly art connoisseur who collects my works, I hung a sexy picture of this beautiful young woman bathing in a canvas tub just inside her tent-flap. A flash of mem-sahib's long legs and upper body fleshed out her angelic profile. The picture wowed the crowd, and several copies were sold. Truth to tell, Christie Hefner, an old friend, came to the exhibition, and admired my African nude.
Suddenly there was a crowd around my picture. The model, writer Dorothy Terry, alive and well in her late seventies, had come to see herself nude at 23. Several photographers got us together to pose in front of the picture, but we were fully dressed and my wife was in the crowd cheering us on. I always regretted not having shot the nude from inside the tent so the background would be Mt. Kilimanjaro and its snows, celebrated by Hemingway -- but now melted away by global heating. Luckily The New Yorker didn't send someone to fiction up the proceedings. Or we might have had Hemingway, unable to have the girl, request a color photo.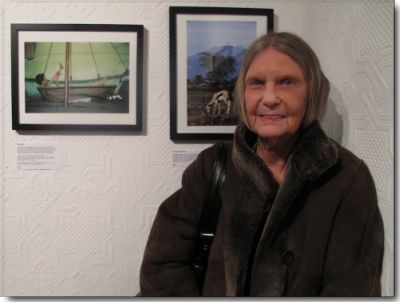 Dorothy Terry in 2010 © 2010 Erica de Glopper
· · · · · ·
If you find Art's work valuable, please consider helping us financially.
· · · · · ·
Legalese
Feel free to insert a link to this work on your Web site or to disseminate its URL on your favorite lists, quoting the first paragraph or providing a summary. However, DO NOT steal, scavenge, or repost this work on the Web or any electronic media. Inlining, mirroring, and framing are expressly prohibited. Pulp re-publishing is welcome -- please contact the publisher. This material is copyrighted, © Art Shay 2010. All rights reserved.
Have your say
Do you wish to share your opinion? We invite your comments. E-mail the Editor. Please include your full name, address and phone number (the city, state/country where you reside is paramount information). When/if we publish your opinion we will only include your name, city, state, and country.
About the Author
Art Shay is the author-photographer of more than fifty books, the former staff Washington correspondent for Time-Life and Life Bureau Chief in San Francisco. Shay has had 25,000 published pictures including 1,050 covers of magazines, books, and annual reports for such clients as Ford, 3M, National Can, Motorola and ABC-TV. His pictures hang in the National Portrait Gallery (Heffner, Durocher, Robert Crumb) in the Chicago Art Institute. His work is currently exhibited at the Chicago Museum of Contemporary Art (through June 29, 2008) following an exhibition at the Gallerie Albert Loeb in Paris, France. The April 2008 issue of North Shore magazine (Chicago) says that "his pictures have the psychology of Dostoevsky, the realism of Hemingway, and the metaphor of Melville... He's in the Pantheon of great photographers such as Cartier-Bresson, Brassai, Strand, and Stieglitz." The Daily Herald (Chicago suburban) of May 5, 2008, called him "the pre-eminent photojournalist of the 20th century..." (back)
· · · · · ·