Swans Commentary » swans.com
December 28, 2009
---
Überhaupt schlüßig Polyhedron
by Silvia dello Russo and Guido Monte
Multilingual Poetry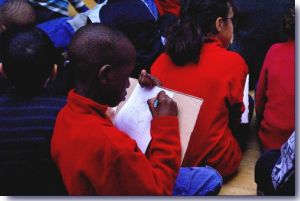 at the Louvre
© 2009 Silvia Spacca
(Swans - December 28, 2009)
(lifting the lifewand in polyhedron of scripture)
and
Jets ist die Zeit, voll itzt zu seYn

now it's the time to be to the full
over
hitherandthithering waters of night
Über
die in der Nacht wandernde Gewässer
Silvia Dello Russo was born in Parma, Italy, on November 15, 1974. In 1995 she left for Germany, Halle an der Saale, at the "Marthin Luther Universitaet," where she focused her studies on germanistic in terms of etymology, metric stylistic poetry, and glottology.

In 1997 she started an innovative study on mitteleuropean languages at the University college of London, especially on a translation of the Etymlanguage of Arno Schmidt in Zettels Traum.

She ended her studies with the publication of her works in Power of words (ed. universitaria indip., 2000), a multilingual discussion of the ontological value of words in terms of mathematical and philosophical concept, by extending the function of languages beyond a transparent medium with her conception that languages are anthropocentric.

She is working in Parma on a theatre work on Hamlet's foolishness of William Shakespeare, cooperating with the Director Tapella in the creations of the dramaturgical text with the use of a borderline language as mirror of mental diseases and apparent normality.

Picture: at the Louvre, by Silvia Spacca (2009).
· · · · · ·

Please help our work by making a financial contribution.

· · · · · ·