Swans Commentary » swans.com
December 14, 2009
---
Perspectives: A Review of 2009
Levi 1943 In Front Of Our 2009
Research: Novella Nicchitta (
Primo Levi
),
Giulia Mazzola ( ), Michelle Abbott (
Vincent Juli
),
Erica Bruno (
P. Barbera
and
J. Myers
)
by Guido Monte
Multilingual Poetry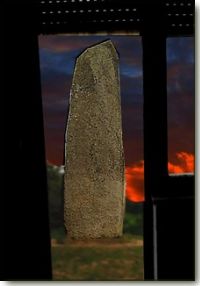 transfert
© 2009 Nicola Spacca
(Swans - December 14, 2009)
You that see your life so safe
In your warm house,

You that find, back home at night,
Hot meals and friendly faces:

Wonder if this is a man:
Who works in the mud
Who has no peace
Who struggles for a piece of bread
Who dies for a yes or a no.
(Fantômes immatériels... immigrants illégaux...
in the depths of indifference)
Wonder if this is a woman,
Without hair without a name
Without any force to remember
Empty eyes and cold her womb
As in winter a frog.
Consider that this has happened:
(It's just devastating, like the wrath of God)
I command you these words
To be impressed in your heart
Staying at home or roaming the road,
Lying down or getting up;

Repeat them to your children.

Or might your house crumble down,
Might illness strike you down,
Might your children turn their faces away from you.
(And the wave we have
crashing over our shores now
Will, too.)
The words of Primo Levi are from the masterpiece Se questo è un uomo ("If This is a Man," 1947), about his experience in the concentration camp of Auschwitz.

Novella Nicchitta, Giulia Mazzola, Michelle Abbott, and Erica Bruno are Monte's students, who help him on the search for words and verses from the only Book ever written. Many thanks also to Manuela Pezzati.

Picture: transfert, by Nicola Spacca (2009).
· · · · · ·

Please help our work by making a financial contribution.

· · · · · ·