Swans Commentary » swans.com
March 23, 2009
---
by Guido Monte
Multilingual Poetry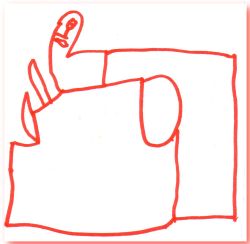 indifferenza
© 2009 Giuseppe Quattrocchi
(Swans - March 23, 2009)
far
e altri sopportano tutte le miserie
and others bear all calamities
mundus sempiternus hominum
egestate cibi peremptus
an endless universe of men,
dead of poverty
ma
se uno muore non importa a nessuno
purché sia sconosciuto e lontano
but
if someone dies, it doesn't matter to anybody,
provided that he's far and unknown.
The author thanks Giusy Chirco.

Drawing: indifferenza, by Giuseppe Quattrocchi (2009).
· · · · · ·
Please help our work by making a financial contribution to Swans.
· · · · · ·