Swans Commentary » swans.com
December 29, 2008 - January 1, 2009
---
by Guido Monte & Vittorio Cozzo
Multilingual Poetry
Translated by Annie Huth

Rakuen wa, subeteno hito no naka ni ari.
(Paradise is inside everyone.)
F. Dostoevskij
(translated into Japanese by Kazue Daikoku)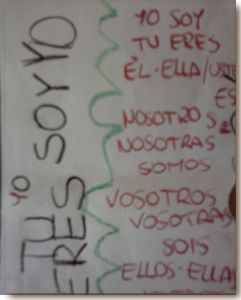 First Exercises
© 2008 Silvia Berizia
(Swans - December 29, 2008 - January 1, 2009)
it was just the clandestine voyage
of another unknown ausländer
(he was one of many),
and spoke words:
and in the end for him as well, the moment
of reckoning will arrive, to return to the substance
of created things... his soul has already grazed
the evidence of invisible things

era solo il viaggio clandestino
di un altro ausländer sconosciuto,
così, uno dei tanti,
e disse parole:
e alla fine anche per lui arrivó il momento
della resa dei conti, di tornare alla sostanza
delle cose create... la sua anima sfiorava ormai
l'evidenza delle cose invisibili
Vittorio E. Cozzo was born in Palermo. He is a free thinker who against all odds publishes experimental works with Guido Monte (e.g., "Nothing recalled and the mysterious life of God." http://www.swans.com/library/art12/gmonte05.html). He continues to live and operate in some remote part of Palermo.

Annie Huth was born in Washington, D.C., and is a student of foreign languages and social sciences at Elon University, North Carolina. Time and again she helps Guido Monte (her former teacher of Italian literature) to translate his experimental works into English.

Pic: First Exercises (2008), by Silvia Berizia.
· · · · · ·
Please help our work by making a financial contribution to Swans.
· · · · · ·