Swans Commentary » swans.com
March 5, 2008
---
Oltre (Beyond)
P. Eluard,
W. Blake,
Vergil,
T. S. Eliot,
J. L. Borges
by Guido Monte & Francesca Saieva
Multilingual Poetry
Research on Eluard, Eliot, Borges: Marta Giambrone, Margherita Guzzo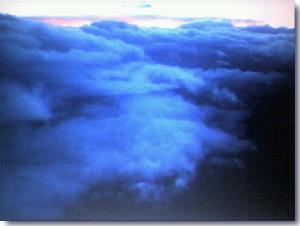 Distanze
© 2008 Bruno Martinez
(Swans - March 5, 2008)
Haut mur... high wall is the essence

of my death,
I wonder whether

it was an accident my fear of the mirrors.
Plus j'avance, plus l'ombre s'accroît...
beneath us was the sun, black but shining;
there're enlarged airs, preening the lands

of feeble light—you can know your sun, your stars

largior hic campos aether et lumine vestit

purpureo solemque suum sua sidera norunt
but
between the essence and the descent

falls the shadow
Ill flowers these my eyes, my mouth, my body. They live by reflex, inside a mirror. Distorted images are overlapping, faded eyes are questioning about an essence. Damned the mirrors? Maybe I enter inside them (Rodenbach) and I wait holding your hand: Anwesen. What is near can be, as distance, very far (Heidegger). I must run along the grey wall...till the horizon will be mine, visible (Kieslowski) -- not yet my end, no more oubli dell'essere, because a paradise is hidden inside me (Dostoevski).
Marta Giambrone, Margherita Guzzo, Bruno Martinez are Saieva's students at the Liceo ginnasio "G. Meli" (Palermo).

Photo: Distanze, by Bruno Martinez (2008)
· · · · · ·
Please help our work by making a financial contribution to Swans.
· · · · · ·