Swans Commentary » swans.com
December 17, 2007
---
by Guido Monte & Francesca Saieva
Research: C. Riba (by Chiara Cappello), A. Rimbaud (by Gianvito Mistretta),
A. Griphius, Vergil, G. Leopardi
Poetry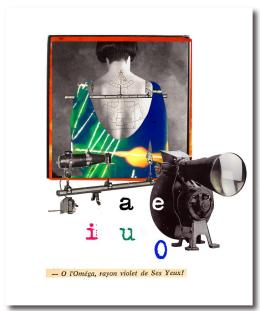 Oméga
© 2007 Giuseppe Zimmardi
(Swans - December 17, 2007)
No, la final lassitud d'aquell que travessa un gran somni
i de sobte ha arribat
als Nichtigkeit, als Schatten,
Staub und Wind
— e un passeggere:
"Quella vita ch'è una cosa bella, non è la vita
che si conosce, ma quella che non si conosce;
non la vita passata, ma la futura"
j'ai rêvé la nuit verte aux neiges éblouies
[we pay and suffer for our own past—
no, the last weariness on a great dream
just in the ending home stretch, just nothing, shade
dust, wind—and a man of passage:
"That wonderful isn't the life you know,
but the life you don't know;
not in the past, but yet to come"
I've dreamt the green night with dazzled snows]
"Not desperate hope" in the "original paradise of being helped" (H. Gollwitzer), you, new man eagle not victimized by abyss, have not to forget "your sweet starting treasure...of being in" (H. Erikson), during primeval times; and you've "to call the wind," that takes away the dust, "so its deep hiss...will have no power" (Th. W. Adorno).
Collage: Giuseppe Zimmardi, Oméga (2007)

Chiara Cappello and Gianvito Mistretta are Monte's students at the Liceo ginnasio "G. Meli" (Palermo), and help him to search for archetipal verses on the "only Book" ever written.

Giuseppe Zimmardi teaches philosophy, and is a well-known Italian writer and author of creative collages and videos.

The authors thank Gilles d'Aymery for his translation of Rimbaud's verse.
· · · · · ·
Please help our work by making a financial contribution to Swans.
· · · · · ·