Swans Commentary » swans.com
October 22, 2007
---
by Guido Monte & Viviana Fiorentino
Poetry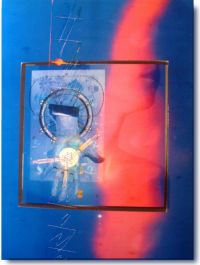 Shin
("Fragment")
© 2007 Giuseppe Zimmardi
(Swans - October 22, 2007)
Shin
skin empty words
let your lips quench my thirst
I feel you heat radiating
you burning essence on flowers
Erwàh, sacred melting point, nothing
laying a waste house
raped Aràh
sacrifice cracked victim
from free hot fluids
blood will leave empty bodies
everything with no name
your hand will leave my vagina
and from depths I'll call you
"ne quaesieris cognoscere res
ne cede tenebris,
no pedir de conocer las cosas
no ceder a las tinieblas — Verlange nicht, alles zu wissen
Weiche nicht vor der Dunkelheit zurück"
The authors thank Tonya Puleo (Spanish and German translations)

Picture: Giuseppe Zimmardi, Shin (2007) -- Giuseppe Zimmardi teaches philosophy, and is a well known Italian writer and author of creative collages and videos.

Viviana Fiorentino is a Ph.D. candidate at the Natural Science University of Siena.
· · · · · ·
Please help our work by making a financial contribution to Swans.
· · · · · ·